BEIJING -- China's consumer price index (CPI), a main gauge of inflation, grew 2.7 percent year on year in July, staying flat from the figure for June, the National Bureau of Statistics (NBS) announced on Friday.
The figure was lower than market expectations of an increase of 2.8 percent, and remained well below the government's full year target of 3.5 percent.
The NBS attributed the inflation growth mainly to rises in food prices on a year-on-year basis, which went up 5 percent in July. Food prices weigh about one third in calculation of the CPI.
Yu Qiumei, a senior statistician with the NBS, said China's consumer prices have stayed relatively stable. "Compared on a monthly basis, the July CPI grew 0.1 percent from June, and food prices in July also stayed flat from a month ago," Yu said.
The data also showed China's producer price index (PPI), which measures inflation at the wholesale level, fell 2.3 percent year on year in July. The figure, down 0.3 percent from June, marked the 17th straight month of decline.
China's economy has been stuck in a protracted weak recovery, easing to 7.5 percent growth in the second quarter from 7.7 percent in the first three months and 7.9 percent in the final quarter of 2012.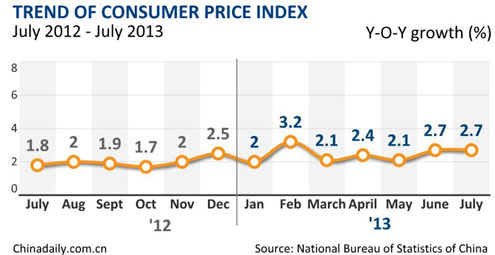 According to the CASS survey, 78 of the economists said the current slowdown will continue in the short-term, while 21 of them said growth will further slide. However, the economists were generally optimistic about the economy's development in the long-term.
The Political Bureau of the Communist Party of China (CPC) Central Committee pledged at a meeting held last month to keep the economy growing steadily in the second half of the year while promising to fine-tune policies when necessary.
The comments were seen as a reaffirmation that a stable environment is necessary for pushing ahead with reforms for long-term sustainable growth.
Official data released last week showed that the manufacturing sector expanded in July from a month ago.
Customs data released on Thursday showed that foreign trade grew 7.8 percent in July after a 2-percent fall in June.