Top executives: AI expected to reshape China's business sectors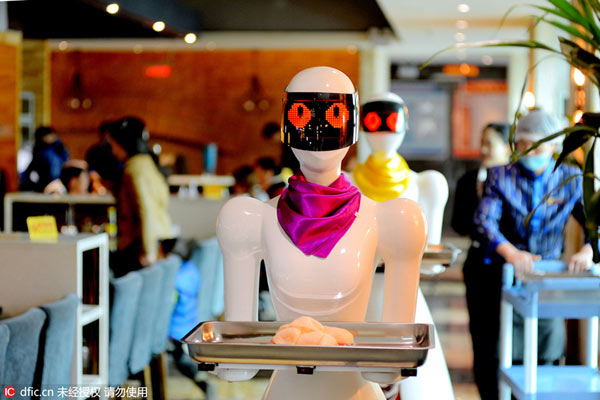 Robots work at a restaurant in Lanzhou, Northwest China's Gansu province, Dec 7, 2015. [Photo/IC]
Artificial intelligence will play an important part in China's supply-side reform as the cutting-edge technology is expected to reshape various sectors such as retail, manufacturing and healthcare, top company executives said Monday at a forum of the fourth World Internet Conference.
Robin Li, CEO of Baidu Inc, China's largest search engine provider, said in Wuzhen, Zhejiang province, that in comparison with the mobile internet technology that has revolutionized consumer services, AI will exert a far bigger influence over how enterprises run their businesses.
"For instance, Baidu is leveraging AI to help supermarkets better manage their supply of fresh food by analyzing and predicting which products are most popular," Li said.
According to him, such solutions have effectively reduced the food waste ratio and boosted profit growth at pilot stores. AI can also be used to help coal mining companies step up precautionary measures against accidents and assist steel mills to automatically check product defects.
Lei Jun, founder and CEO of Chinese smartphone company Xiaomi Inc, said internet companies can leverage the huge number of users and devices they have accumulated in the past several years to find new growth momentum with AI.
"A key factor in the digital economy is integration. Only by integrating AI with various sectors can we give full display of the technological advancements the world has made," Lei said.
Xiaomi said it has over 85 million consumer electronic devices on its internet of things platform as of November.
Fu Sheng, CEO of Cheetah Mobile, a major mobile app publisher in China, said it is very important to have abundant application scenarios to promote the development of AI.
"Technology must be efficiently integrated into products. AI is reshaping industries which used to be far away from the internet," Fu said.
By applying image recognition technologies to Live.me, a livestreaming platform which is ranked as the most popular social-networking app on the Google Play app store in the United States, Cheetah Mobile said it can now automatically track user-generated content. The move has greatly boosted work efficiency and lowered labor costs.