Cybersecurity Law aims to 'protect people's interests'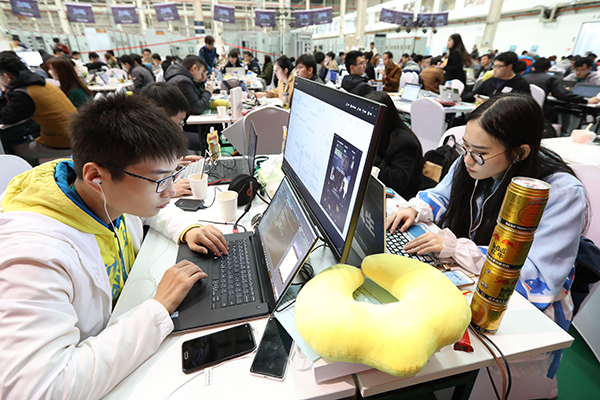 Programmers at a skills competition in Wuhan, Hubei province. The contest was aimed at stimulating the development of internet technology. [Photo/China Daily]
New legislation set to be a hot topic among experts, officials at the annual internet meeting
Cybersecurity and related issues have been hot topics among internet and judicial experts since China's first Cybersecurity Law was adopted earlier this month.
The law and its related topics, including how to put coordination of government departments into practice and how to review products and services before they are made available on the internet, will also be heated topics of discussion at the World Internet Conference, experts said.
Li Yuxiao, secretary-general of the Cybersecurity Association of China, said that he will go to Wuzhen, Zhejiang province, to participate in the third WIC, which runs from Wednesday to Friday, adding that one of his focuses will be legal issues.
"It's good to see that our nation has finally drawn up and adopted its first Cybersecurity Law," Li said.
"It's the guide when we draft some other cybersecurity-related rules, and I think its adoption has brought more confidence to internet and judicial professionals," he said. "I'd like to share the law with foreign guests and listen to their opinions at the conference."
The law, with 79 articles, was approved by the Standing Committee of the National People's Congress, China's top legislature, on Nov 7, and will be effective on June 1, 2017.
"The lawmaking is to maintain State security and protect people's interests," said Yang Heqing, deputy director of the office for economic law under the NPC Standing Committee's Legislative Affairs Commission.
The law also aroused public attention overseas, as some foreigners have a great concern about one article-online products and services that could form China's key internet infrastructure or affect State security must pass a governmental review to enter the Chinese market.
In response to the concern, Zhao Zeliang, head of cybersecurity for the Cyberspace Administration of China, said: "The article of the law does not mean that we'll block foreign web products and services."
Zhao denied the article is a trade barrier, saying there is some misunderstanding overseas.
Wang Sixin, a law professor specializing in cybersecurity at the Communication University of China, suggested guests from home and abroad at Wuzhen should discuss it to reduce misunderstanding.
"The review is a necessity, as some products with security risks may harm the internet," Wang said. "If we cannot find them quickly, the damage will be more serious."
The review also targets every product or service that tends to be in the market, no matter where they are from, he said, adding that similar checks are also being conducted in the United States and the European Union.
He said the conference is a good opportunity and platform to communicate and reach consensuses, saying that the more discussion there is on the law, the better it can play a role in cyberspace governance.
Zuo Xiaodong, vice-president of the China Information Security Research Institute, said the law is a milestone.
"It's a progress that the law clarifies the responsibilities of governments, enterprises and individuals in cyberspace, and measures on how to deal with cyber emergencies," Zuo said.