Realty stocks take hit from stricter policies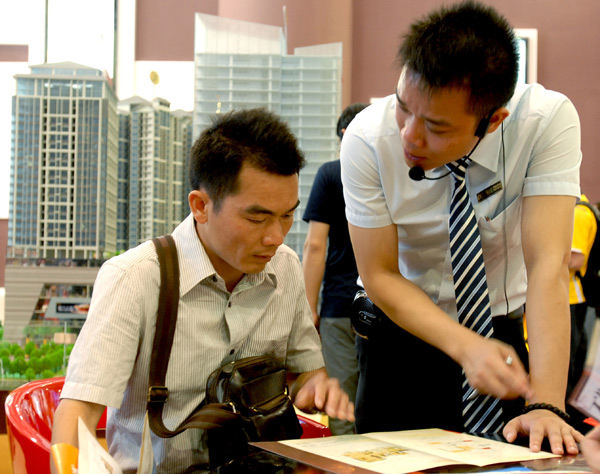 A salesman advises a potential customer at a real property promotion event in Nanchang, capital of East China's Jiangxi province. [Photo by Peng Huan/For China Daily]
Real estate developers listed in Shanghai, Shenzhen and Hong Kong plunged on Monday as restrictive residential property sales policies were extended further across the nation and greater policy tighetening is expected over the next few months.
A massive 108 out of 116 A-share listed developers saw their stock prices decline, according to Shanghai-based market information services provider WIND Information.
Hong Kong-listed developers based in mainland cities also saw sharp declines, with China Aoyuan dropping 18.64 percent to HK$4.19 ($0.54) and Country Garden down 10.9 percent to HK$12.1.
Starting from Friday, seven cities-Changsha, Chongqing, Nanchang, Nanjing, Guiyang, Xi'an, and Shijiazhuang-announced that they would strengthen policies against speculative buying in the residential real estate market.
On Monday, Wuxi in Jiangsu province also raised its threshold for homebuyers, requiring that all homebuyers without household registration, known in Chinese as hukou, in the city should have a record of having paid income tax or contributing to the social security fund for two consecutive years.
These cities join the top-tier cities and provincial capitals which had already started to curb speculative home transactions since the beginning of the year.
"This is a signal that policymakers are conducting a long-term strategy and extending measures to stablize home prices to locations beyond top-tier cities," said a research note from property agency Centaline Property.
According to a research note by Bank of America Merrill Lynch, more policies against speculative real estate purchases could be adopted in October, a peak time for housing transactions in China.
The policies introduced over the past few days indicate a distinct shift in strategy, the research note said.