Coal, steel reforms squeeze debt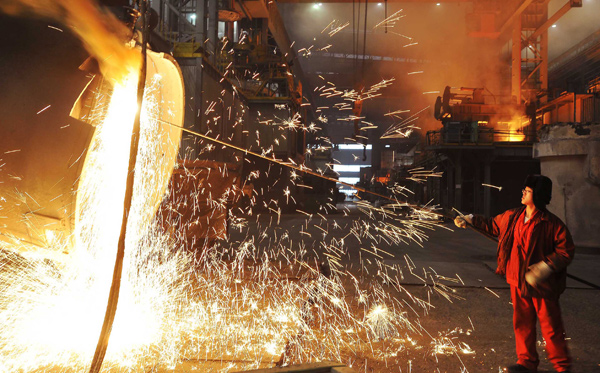 A worker cleans a steel lendle at the Dongbei Special Steel Group in Dalian, Liaoning province. LIU DEBIN / FOR CHINA DAILY
Restructuring sectors will help cut overcapacity and boost prices
Radical reform of the coal and steel industries has cut overcapacity and reduced debt levels among State-owned enterprises.
A research report from GF Securities Co Ltd showed that repacking debt into equity and promoting policies to revamp the supply chain are helping to transform the sectors.
"The deals will not only reduce their leverage ratio and financial pressure, but also facilitate their industrial transformation and upgrading," the report stated.
The reforms in the coal and steel sectors will also make these SOEs leaner and more able to adapt to a high-tech world.
This in turn will cut oversupply and stabilize prices within the industries, and make these sprawling companies more competitive.
"Output reduction will lead to a rise in prices and company profits," said Yao Yang, an analyst at Shenwan Hongyuan Securities.
"This will lay a solid foundation for the implementation of the debt-to-equity swap deals."
Overcapacity in the coal and steel industries has been drastically reduced in the first part of this year.
Statistics from the National Development and Reform Commission showed that in the first five months of 2017, 42.39 million tons of steel capacity had been cut, reaching 84.8 percent of the annual target reduction. Figures also revealed that 111 million tons of coal was left in the ground during the first six months.
This was 74 percent of the annual target reduction for the fossil fuel in China.
"But there is no need to implement large-scale coal reduction measures later in 2017," said an official from NDRC, implying that coal prices are now at a reasonable level.
Earlier this year, companies in the largest coal producing province of Shanxi in North China rolled out debt-to-equity swaps.
The Lu'an Mining Industry Group signed debt-to-equity swap agreements with the local State-asset regulator and China Construction Bank Corp worth 20 billion yuan ($3 billion) in March.
In May, Shanxi Coking Coal Group Co Ltd signed the first market-oriented debt-to-equity project, worth 2 billion yuan, with the China Construction Bank branch in the province.
"As cyclical industries, high debt ratios bring huge pressure to enterprises," the GF Securities report stated. "So, it is urgent for them to reduce the asset-liability ratio."
In March, the China Iron and Steel Association, or CISA, announced it was also working on bringing down its debt levels.
The plan will be to reduce its asset-liability ratio to below 60 percent in the next three to five years, according to Liu Zhenjiang, general secretary of CISA.
"So far, 10 steel companies, including China Baowu Steel Group Corp Ltd, have signed debt-to-equity swaps with banks," Liu said. "The China Banking Regulatory Commission will bring together related financial institutions and typical steel enterprises to implement relevant issues in the near future."
The steel industry should also accelerate its debt-shedding policy in an effort to finally get to grips with the problem, Luo Tiejun, a senior official from Ministry of Industry and Information Technology, pointed out.
"Last year, the average industry debt ratio was brought down by only one percentage point," Luo said.
In the first quarter of this year, the average asset-liability ratio for CISA members was almost 70 percent, Gu Jianguo, vice-president of the association, said at a news conference in April.
In addition, Yao of Shenwan Hongyuan Securities, stressed that debt-to-equity swaps can lower the figures on paper, but they had limited impact in reducing the real debt burden.
The Fifth National Financial Work Conference made it clear that deleveraging SOEs was one of the priorities to prevent financial risks in China.
At the end of the first quarter, the debt ratio of non-financial companies jumped to 157.7 percent from 155.1 percent in the final three months of 2016, according to the National Institution for Finance & Development.
Since the global financial crisis in 2009, China's corporate debt has continued to accumulate. By the end of last September, liabilities in the non-financial sector hit $28 trillion, which was about 250 percent of nominal GDP.