Couple swallow bitter pill to run sweet business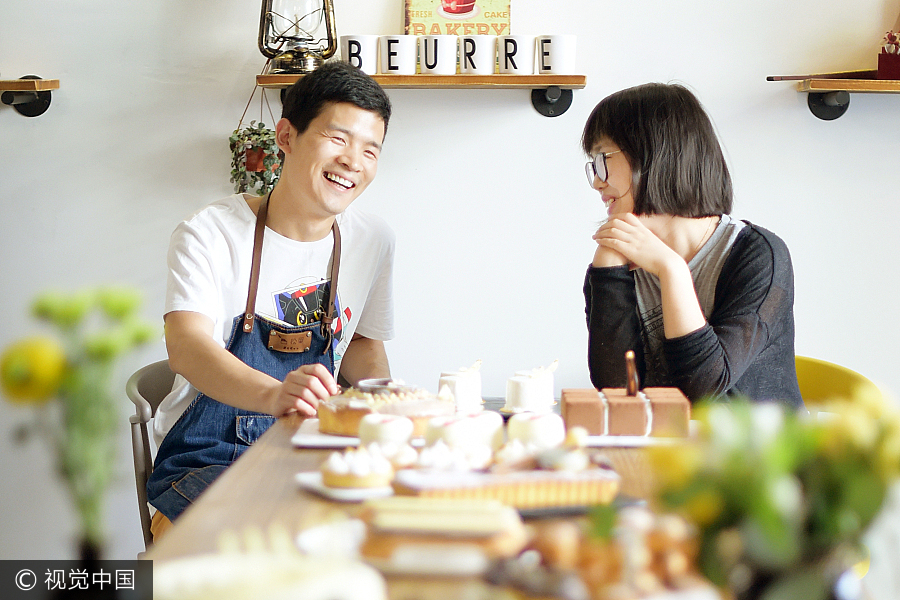 Yixuan and her husband in their dessert shop in Qingdao, Shandong province, July 1. [Photo/VCG]
Before Yixuan and her husband spent more than 200,000 yuan ($29,444) to open their second dessert shop, the couple planned to use the money to buy a home in Qingdao, East China's Shandong province.
Because the city implements strict home purchase restrictions and they have not made social security payments, the couple for the time being cannot buy a house.
Although the plan to buy a home was put on hold, the couple was not too disappointed. Yixuan said, "Purchasing a home can bring sense of safety, but running a shop can deliver us greater happiness".
Now, the couple's second shop is up and running. They not only sell ready-made desserts, but also teach enthusiasts how to make them.
Yixuan's husband Zhang is a dessert chef. A few years ago, he worked for a five-star hotel with annual salary of 100,000 yuan. Yixuan was a manager at a youth hotel.
Owning a dessert shop was Zhang's dream so the couple quit their job, to open their first shop. "Resigning from job to run own business is not an easy step. We just chose another way to live. Although we are concerned about our future, we believe we can keep going," Zhang said.