Polish apple traders eye slice of the action in lucrative market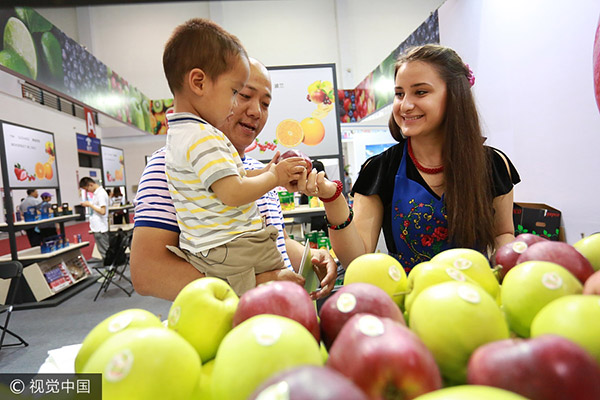 A Polish trader gives an apple to a child at an expo in Ningbo, Zhejiang province, June 9. [Photo/VCG]
Polish apple traders are looking for more Chinese buyers for their fruit, after the European nation signed a trade agreement with China on exports of its iconic bicolored apples to the Chinese market.
"We are talking with potential trade companies, as well as supermarkets about selling our apples in China, which is an important market for us to expand the export volume," said Waldemar Zolcik, chairman of the Association of Polish Fruit and Vegetables Distributors.
Zolcik led a trade delegation to Guangzhou, capital of Guangdong province, to display Polish bicolored apples during an international food and imported goods fair in mid-June.
"Our apples have been well accepted by Chinese consumers since we shipped the first batch of our products to the market at the end of last year. We believe there would be a huge market for European apples," said Zolcik.
China signed an agreement with Poland to introduce the Polish apples last June.
"The Belt and Road Initiative is of great significance of strengthening agricultural trade between Poland and China. We believe that Chinese consumers will be able to have a taste of more European agricultural products in the near future," said Pawel Zalewski, a quality expert at the association.
As a country related to the Belt and Road Initiative, Poland is the leading apple producer in Europe, producing 4 million metric tons of the iconic bicolored apples annually, according to Zalewski.
Since December last year, around 500 tons of the fruit was shipped to the Chinese mainland, according to Marcin Stasiak, a trade expert at the association.
"We have also exported apples to Hong Kong, which is a promising market for Polish apple traders," said Stasiak.
According to Stasiak, sending apples from Poland to China is a huge logistical undertaking as it would take about 40 days traveling by sea or 18 days by train.
"We have selected nine best types of bicolored apples for the Chinese market. We want to look for alternative markets to become less dependent on one big customer," said Stasiak.
Besides the Chinese market, Polish apple growers and traders are also looking to export more fruit to the United Arab Emirates, under the Polish government's three-year plan to promote the fruit in the Asian market, which was launched in 2014.