China to roll out new class of bullet trains
By Jing Shuiyu and Zhong Nan in Beijing and Liu Mingtai in Chang Chun | China Daily | Updated: 2017-06-30 07:33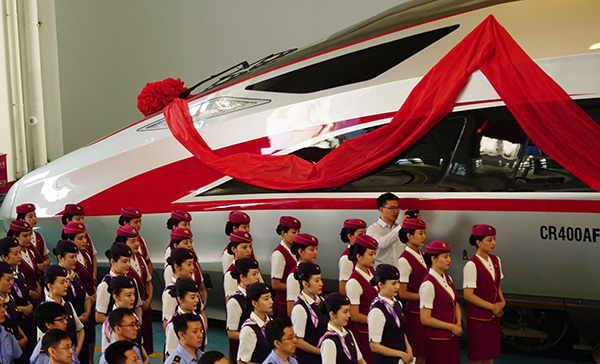 A naming ceremony for a Fuxing class bullet train is held in Beijing on Sunday. [Photo/Xinhua]
CRRC Changchun Railway Vehicles will deliver 25 new generation engines
China's rail vehicle manufacturer will roll out 25 new generation bullet trains worth up to $1.84 billion in October.
An insider at CRRC Changchun Railway Vehicles Co, which built the state-of-the-art locomotives, confirmed they would be handed over to the parent company, China Railway Rolling Stock Corp, in the fall.
"This is another example of the company's ability to develop and manufacture high-tech trains," the manager, who requested anonymity, said. "It also helps manufacturing here."
The "Fuxing" class bullet trains adopted wholly self-developed core technologies and are built under a unified Chinese standard. Each train sells for between 400 million yuan ($58.8 million) to 500 million yuan.
Four of the 25 new engines have already been delivered to the parent company, while two models, CR400AF and CR400BF, are going through trials on the Beijing-Shanghai high-speed rail line, the manager said.
"The Fuxing class trains are designed to travel at 350 kilometers per hour on average with a maximum speed of 400 km/h," designers at the China Academy of Railway Sciences, or CARS, revealed in a statement.
CRRC will obviously be hoping to find overseas buyers for its new locomotives.
Zhao Hongwei, chief engineer with CARS, said the bullet trains with an average speed of 350 km/h, are suitable for long-range mainlines such as Beijing-Guangzhou line, as well as intercity lines such as the Beijing-Tianjin route.
"In the future, production of the new trains would definitely surge," Zhao was quoted as saying by Chinanews.com.
Apart from upgrading China's bullet train sector, these latest models were also designed and produced for the export market, according to the CRRC Changchun Railway Vehicles insider.
"They can be manufactured to the needs of foreign customers," the manager said. "After all, production standards and operating environments can vary in different countries and regions."
Last year, revenue from CRRC's listed arm CRRC Corp Ltd reached almost 230 billion yuan with export orders contributing more than 8 percent of overall turnover.
This has helped CRRC develop and grow by pumping resources into research.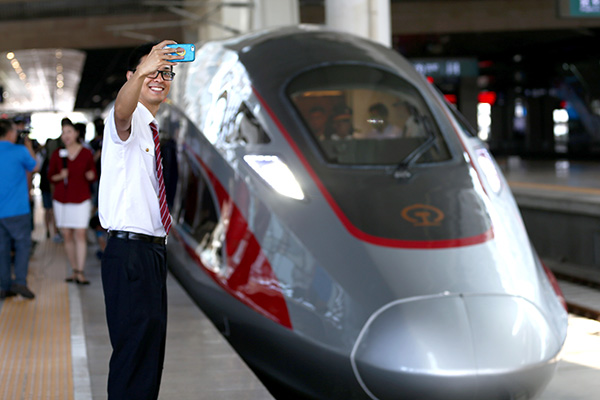 A man takes a photo with a Fuxing bullet train before its departure for Shanghai from Beijing. [Photo/Xinhua]
At first, China had to import key components from Germany's Siemens AG and Alstom Group of France. But advances in bullet technology locally are starting to change the landscape.
"China has been speeding up efforts to develop its own core components and standards," said Li Sha, an analyst at GF Securities Co Ltd. "The initiative will accelerate the pace of replacing foreign technologies with self-developed ones."
Li also pointed out that these latest high-speed models will boost business opportunities for domestic manufacturers.
Steel for wheel construction used to be imported, but now two Chinese publicly traded companies have been certified to supply the high-grade material.
"Maanshan Iron & Steel Co Ltd in Anhui province and Taiyuan Heavy Industry Co Ltd in Shanxi province have been given the green light to do the work," Li said.
Already the domestic market for bullet trains in China could hit 400 billion yuan within a decade, according to the CRRC Changchun Railway Vehicles insider.
Still, compared to Europe and Japan, China developed its high-speed rail industry late.
Yet during the past decade the country has made tremendous progress and now has the world's longest high-speed network, covering 22,340 km.
At the same time, Chinese companies are more competitive to Western rivals.
A report by the BBC, the global television and media company based in the United Kingdom, showed construction costs were significantly lower than in Europe or the United States.
Xinhua contributed to this story.