Social media set to morph into shopping platform: new report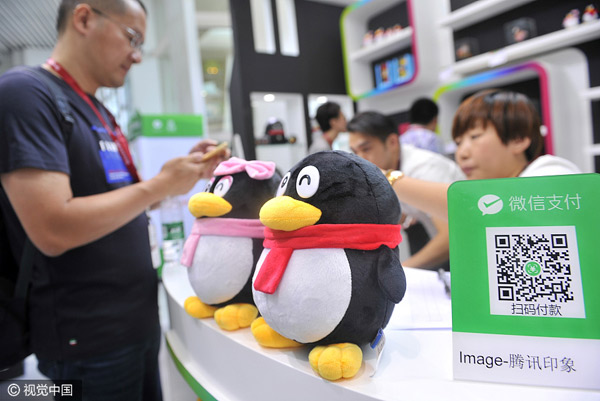 A man pays via WeChat app on his mobile phone in Fuzhou, capital of Fujian province. [Photo/VCG]
China's shoppers expect a more personalized customer experience in a new digital era where the distinction between online and offline matters less, a new report on Chinese consumer trends has found.
McKinsey & Co released their report China iConsumer Research 2017 on the sidelines of the annual meeting of the New Champions 2017, also known as Summer Davos, in Dalian, Liaoning province.
It found the primary shopping mode for Chinese customers has become the omni-channel experience that can offer both offline and online channels before making purchases.
More than 95 percent of the 5,900 respondents said they either visited the physical stores before purchasing electronics online or bought them in stores after doing online research.
The report predicted the e-commerce market in China would expand 19 percent in 2017, a relatively modest rate compared to six years of rapid growth including 74 percent in 2011.
The report found that the solely online retail platforms are reaching their ceiling, but the full potential of the digital retail sector has not yet been fulfilled.
"Having quickly evolved as a market for pure digital players, Chinese e-commerce is poised to enter a new retail era," the report said.
The term 'new retail' refers to a combination of the strengths of both online and offline retail.
Founder of e-commerce giant Alibaba, Jack Ma, said new retail is wiping out the distinction between physical and virtual commerce.
In addition to shoppers' high expectations for omni-channel services, McKinsey suggested other major consumption trends are emerging in China in the new retail era.
Chinese customers are pursuing scenario-triggered shopping - an e-commerce experience that adapts to whatever a shopper is doing and seeing at a given moment, the report said.
The report also found various consumer activities such as discovering new products and making purchases are appearing on social media platforms.
About 70 percent of the people surveyed by McKinsey who use WeChat, an instant messaging tool and social media app in China, showed interest in shopping through the platform if their favorite brands were available on it.
The report also noted Chinese consumers' rising enthusiasm for customized products and services.
The report found existing online product recommendations received by consumers are far from personalized. They are based on consumers' previous online search topics or shopping history but fail to indicate new items consumers would be interested in.
Deeper personalization based on data and connecting online and offline experiences are key for brands and retailers in China's new retail era, the reports said.