Shanghai FTZ proves model for success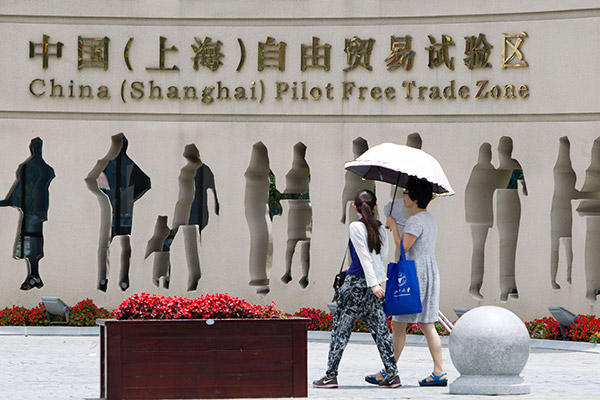 Two pedestrians walk past the Shanghai FTZ. [Photo/China Daily]
Editor's note: In the run-up to the 19th CPC National Congress, China Daily will cover a series of reforms, showcasing huge improvements in the country's services.
More than 60,000 free trade accounts help serve over 27,000 domestic and overseas companies in about 110 countries and regions
It has become a blueprint for success and a model for economic growth.
Rolled out in September 2013, the China (Shanghai) Pilot Free Trade Zone was the first of its kind.
Since then, it has been a major driver in economic expansion in the city and across the country.
"Shanghai FTZ became a national test model-it was not just a local initiative," said Weng Zuliang, Party secretary of Pudong.
Eye-popping numbers illustrate the achievements of the free trade zone during the past three-and-a-half years.
The Shanghai FTZ has expanded to 120.72 square kilometers from its original size of 28.78 sq km. Last year, it produced 75 percent of GDP for the Pudong New Area, where it is situated.
It also accounted for one fourth of the city's GDP.
Statistics also showed that the "negative list for foreign investment" has been dramatically reduced, while the number of newly registered companies increased to more than 40,000 since 2013.
This equalled the total number posted in the two decades before the trade zone was launched.
"During the past three-and-a-half years, Shanghai FTZ has made major strides in investment, trade, financial reform and the change of government functions," said Weng.
Data revealed that the time needed for clearance of imported container goods and airfreight has been reduced by 25 percent and 11 percent respectively.
More than 60,000 free trade accounts are also in operation, serving more than 27,000 domestic and overseas companies in about 110 countries and regions.
But there are still challenges ahead for the Shanghai FTZ as it continues to grow.
"One of the major tasks in the near future is to become more closely linked to the country's Belt and Road Initiative, so that more companies can reach overseas markets," said Weng.
Again, figures showed that companies registered in the Shanghai FTZ have reported total trade volume of 333.9 billion yuan ($49 billion) with economies involved in the Belt and Road Initiative.
Breaking down the numbers, it was up to 60 percent of the total trade volume in Shanghai.
In the first quarter of this year it topped 95 billion yuan, up 28.7 percent compared to the same period in 2016.
By the end of last year, companies registered in the trade zone had funded 108 projects in 25 countries related with the Belt and Road Initiative, which aims to connect Asia, Africa, the Middle East and Europe to the old Silk Road.
Another key area has been total investment volume, which reached 4.38 billion yuan, fueled by Belt and Road projects.
Shanghai Zhenhua Heavy Industries, for example, has changed its strategy from being a purely exporting company to funding projects.
So far, the group, which was one of the world's largest manufacturers of cranes and large steel structures, has invested in 14 economies involved in the initiative, Weng confirmed.
"To better participate in the project, the Shanghai FTZ will first seek smoother communication with the local governments," he said.
"We will perfect the infrastructure in Pudong, further complete the financial system and ensure multilateral trade, so that local consumers can have more choices of overseas products," he added.