Ctrip says joys of summer travel getting much cheaper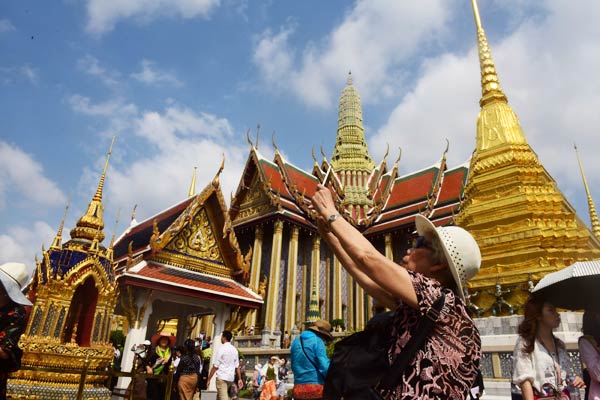 A Chinese tourist takes a photo at a Buddhist temple in Bangkok. [Photo by Meng Zhongde/For China Daily]
This summer, traveling abroad will be much more cost-efficient for travelers, with tickets pitched at keener prices than last summer-due to easier visa policies, increased flights, and price competition between numerous travel agencies-according to a report by Ctrip.com International Ltd, China's leading online travel agency.
Ctrip said that in previous years, traveling during summer holidays often cost 30 to 40 percent more than the off-peak season. This year, the report said, the seasonal rise was about 10 to 20 percent, with an increasing capacity of flights and expanded tourist handling facilities at destinations.
During the summer holiday this year, a record 30 million Chinese mainland tourists are projected to travel overseas. It is estimated that their average spending while traveling will reach 7,000 yuan ($1,030), up 6.8 percent year-on-year.
In addition, 35 percent of the outbound traveling will last more than a week.
"The requirements of Chinese consumers are constantly growing, and they are willing to spend more on traveling," said Peng Liang, public relations director of the vacation department at Ctrip.
"More people choose to go to farther destinations, take longer trips, and book more expensive hotels and traveling services."
Ctrip said the average spending is equivalent to the average monthly wage of urban residents in China. The report said that last year, monthly salaries in China's large and medium-sized cities ranged from 6,000 yuan to 8,000 yuan, with the highest average monthly salaries found in Beijing and Shanghai, at around 9,000 yuan.
Dai Bin, director of the China Tourism Academy, said in the past, tourists had limited traveling experiences, and it was easy for them to feel satisfied with services. Now, with Chinese people traveling much more frequently than before, they had much higher requirements of services in various destinations.
The Ctrip report found that this summer, the most popular destinations include Tokyo, Osaka, Bangkok and Singapore, and tropical islands such as Phuket Island, Bali, Nha Trang and Long Beach.
Compared with last summer, tickets for traveling to Thailand, the United States, the Maldives, and European countries experienced some gains, due to price increases by local guides and other resources.