Big Three tuck into bumper returns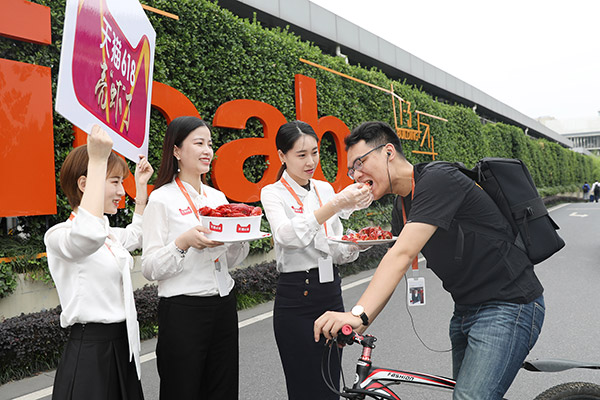 Working staff at Alibaba's Xixi garden in Huaian, Jiangsu province, feed a colleague with crayfish, a popular seasonal dish during summer in China, after the Xuyi government signed a cooperation agreement with Tmall to seek a wider online sales channel for the product. [Photo/China Daily]
Alibaba, Tencent and JD.com are reaping the rewards on premier goods as shoppers go on an online buying binge
Shoppers with a taste for premier goods and services are boosting the profits of China's internet giants and driving a consumption-fueled economy.
Online retail sales of goods surged 25.9 percent in the first four months to 1.46 trillion yuan ($215 billion) compared to the same period last year, according to data released by the National Bureau of Statistics in May.
The amount splashed out on services also jumped 55.9 percent, outpacing the 10.2 percent growth in overall consumption.
"Rising incomes among Chinese consumers mean that online retail demand is moving from low prices to better quality-driven products," said Matthew Crabbe, the Asia Pacific research director at consultancy Mintel.
The big three online players are reaping the benefits.
In its latest earnings report, Alibaba Group Holding Ltd posted a 56 percent year-on-year growth to 158.3 billion yuan.
Tencent Holdings Ltd also announced a revenue surge of 54.8 percent to 49.6 billion yuan in the first quarter of this year compared to the same period in 2015. This was triggered by a range of sectors from gaming to social media.
With those sort of numbers, it is hardly surprising that these online behemoths are valued at $300 billion each, and represent the rise of China's new economy.
But then, the country's middle class has created this amazing growth in their core business even though Alibaba and Tencent are now funnelling billions of dollars into long-term projects such as Hollywood-style entertainment and online finance.
Tencent has already scored a huge hit with the mobile game Honor of Kings, which has around 50 million daily users since its debut in 2015.
According to analyst company Niko Partners, players spend $6-a-month on average for the game and play for six hours a week.
As for Alibaba, it has reaped rewards from the steady growth of Tmall, its business-to-customer site.
The company announced that 80 percent of the world's most valuable 100 brands on Forbes' rich list are on Tmall.
"Transactions on Tmall alone probably jumped by 25 percent in the March quarter," Alicia Yap, an analyst at Citigroup Inc, said.
Of course, consumers are now more accustomed to paying for goods and services online.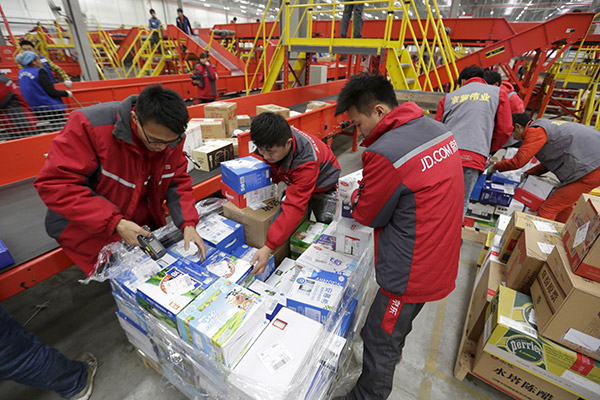 Workers sort the commodities at a JD.com logistics center in Langfang, Hebei province, on the eve of the Singles Day, an internet shopping festival in China. [Photo/Agencies]
JD.comInc, the nation's second largest e-commerce company by gross merchandise volume, reported its first profit as a public company of 239 million yuan for the three months that ended in March.
Again, potential for the big three of Alibaba, Tencent and JD.com is still huge.
In a report, the Boston Consulting Group pointed out that online spending is expected to grow by 20 percent annually in China during the next five years to $2.73 trillion.
That is twice as fast as in the United States and the United Kingdom.
"Still, the next phase of online retail is the move away from simply selling products as efficiently as possible to create an enjoyable experience for the consumer," said Matthew Crabbe, Asia Pacific research director at consultancy Mintel.
"Most of their revenues come from charging for space in their online environments," he added. "That represents an economy of scale in the revenues they receive from the services they offer to those companies."
Apparently, it's not just "physical goods" that are gaining popularity in China.
New technologies have transformed the way people receive information and entertain themselves. This in turn has opened up another lucrative revenue stream for the internet titans.
With its ubiquitous WeChat, Tencent has grown into a gaming unicorn with 70 percent of its profits coming from that sector.
Resilient in-game spending is backed by an established fan base of hit novels, or anime, that are re-produced into fresh mobile titles.
But what delights investors more is Tencent's ability to make money out of its vast social network empire through digital advertising to "mobile wallets".
The company, for example, reported that advertising revenue climbed 67 percent year-on-year to 4.38 billion yuan ($644.11 million) in the first quarter of 2017.
Payment and cloud services, which are classified as "other revenue", enjoyed a massive 224 percent growth in the first quarter.
Last year, one-third of WeChat users spent four hours or more per day on the mobile chat line. That was double the period of time from a year ago, according to Penguin Intelligence, a research arm of Tencent.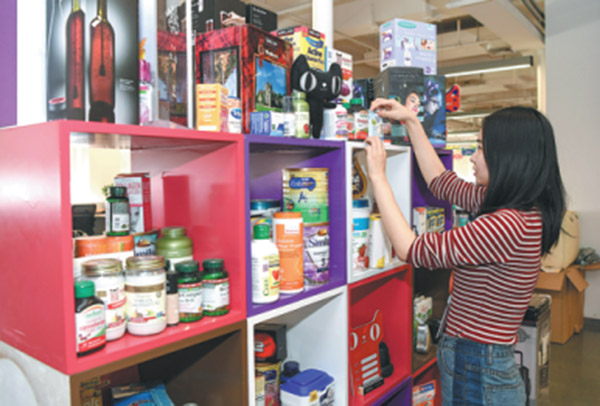 An employee of Tmall International in Hangzhou, Zhejiang province, checks the imported products on China's largest online marketplace. [Photo/Xinhua]
"Of course, that has helped Tencent reap early gains in digital advertisements via WeChat Moments, the social feed of friends' updates," said Li Chao, a senior analyst with local consultancy iResearch.
Naturally, new categories are being added all the time.
There are sections for restaurants, taxis and cinemas. These can be all tailored to an individual profile, Richard McKenzie, a partner of consultancy Oliver Wyman, revealed.
"But that requires a high degree of competence and the use of big data, which is another field where Alibaba and Tencent are both leading the way," Crabbe, of Mintel, said.
Bloomberg contributed to this story.