Sino-Kazakh trade ties set to flourish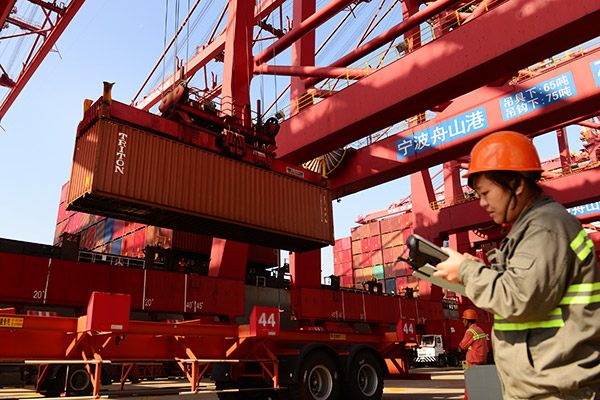 A worker monitors container operations at Zhoushan port in Ningbo, Zhejiang province. [Photo/China Daily]
Beijing, Astana to boost cooperation in energy, agriculture and infrastructure
China and Kazakhstan plan to further upgrade their bilateral investment agreement to promote more trade and investment deals in the key areas of energy, agriculture and infrastructure, the Ministry of Commerce said on Thursday.
Spokesman Sun Jiwen said the ministry will speed up efforts to cement economic and trade relations with Kazakhstan in a comprehensive way, such as broadening financing channels and expanding areas of cooperation.
Among the economies participating in the Belt and Road Initiative, Kazakhstan is China's largest investment destination, Sun said at a news conference in Beijing.
According to the ministry, Sino-Kazakh trade exceeded $4.91 billion between January and April, up 45.6 percent compared with the same period last year. So far, China and Kazakhstan reached early agreements on 51 deals in capacity cooperation, which are worth more than $26 billion.
Kazakhstan is China's largest trading partner in the Central Asian region, and China's largest investment destination among Belt and Road economies.
China on Thursday posted a significant surge in exports and imports in May, with total volume growing 18.3 percent year-on-year to 2.35 trillion yuan ($345.92 billion).
China's exports increased by 15.5 percent to 1.32 trillion yuan in May from a year earlier, and imports rose 22.1 percent year-on-year to 1.03 trillion yuan, according to the General Administration of Customs. It produced a trade balance of 281.6 billion yuan.
In dollar-dominated terms, exports rose almost 9 percent year-on-year, while imports jumped nearly 15 percent. The data were far better than the 7.2 percent rise in exports and the 8.3 percent increase in imports in dollar calculation, predicted by analysts in a survey by Bloomberg News.
Wei Jianguo, vice-president of the China Center for International Economic Exchanges, said an import boom would not only meet China's growing domestic demand but contribute to growth in the rest of the world.
"The trend will continue in China this year, as the Belt and Road Initiative continues to advance," said Wei.
China will likely import more high-quality agricultural and industrial products, cutting-edge technologies, and luxury goods from countries and regions related to the initiative, he elaborated.
He said the forecast is based on an evaluation of the mutual benefits that all sides stand to gain from the initiative.