China's richest man loses $29m in Spain property deal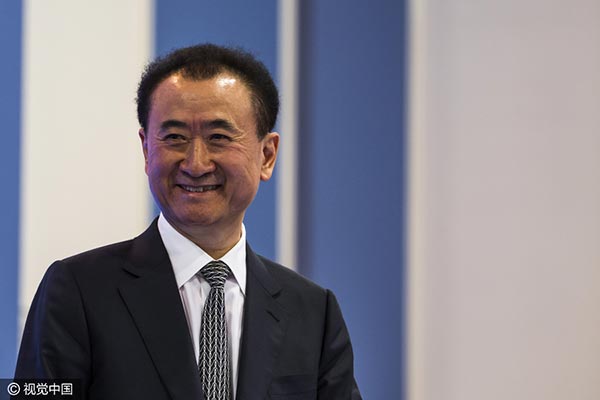 Wang Jianlin, chairman and president of Dalian Wanda Group, attends the Asian Financial Forum (AFF) in Hong Kong, Jan 18, 2016. [Photo/VCG]
China's richest man Wang Jianlin has lost up to 200 million yuan ($29.3 million) from a deal brokered in Spain three years ago because of a shift in exchange rates.
Wanda Hotel Development Company Ltd announced on Friday it had sold its stake in Plaza de Espana 19 Development SLU to Spanish property company Baraka Global Invest SLU.
The sale by Wanda Hotel Development, a subsidiary of Dalian Wanda Group chaired by Wang, was completed on Thursday.
As a result, shares in the Hong Kong-listed Wanda Hotel Development climbed 1.45 percent to close at HK$0.7 (9 cents) on Friday.
According to a previous announcement by the company, the sale price was 272 million euros ($305 million), which was higher than the 265 million euros Wanda Hotel Development paid for the Plaza in 2014.
But because the euro has deprecated since then and the yuan has strengthened in the past few years, the company has lost out on the deal.
Wanda paid the equivalent of 2.2 billion yuan based on the exchange rate in 2014. The 272-million-euro selling price this week translates into 2.08 billion yuan based on current rates.
So, Wang and his company have lost almost 200 million yuan over the deal.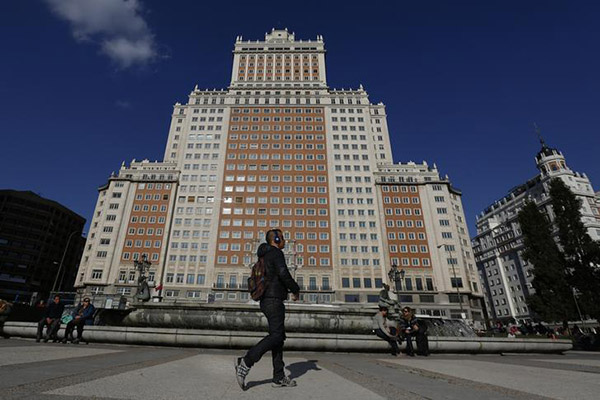 People take a break at Plaza de Espana in Madrid, Spain. [Photo provided to China Daily]
As a landmark in Madrid, Plaza de Espana used to consist of a luxury hotel, a business center and a number of apartments before 2006.
But it had been empty until Wanda took control three years ago.
After it was snapped up, the company planned to restore the Plaza to its former glory with a 200-room luxury hotel, high-end retailing space and 300 residential apartments.
Unfortunately, Wanda's blueprint was never turned into reality.
A change in attitude of the Spanish government and strong opposition by local residents to restoration work put the plan on ice for at least two years.
Eventually, Wanda lost interest in the project.
According to market research firm ASKCI Consulting Co Ltd in Shenzhen, the group has spent more than $15 billion on overseas acquisitions between 2012 and 2016.
Up to $7.5 billion has been spent on cultural and entertainment projects and $3.5 billion on commercial properties.
So far, the company has been involved in projects in London, Chicago, the Golden Coast of Australia, Sydney, and Los Angeles' Beverley Hills.
Wanda has also been looking at investments in Malaysia and Indonesia as part of the Belt and Road Initiative.