China-made C919 passenger jet weeks away from takeoff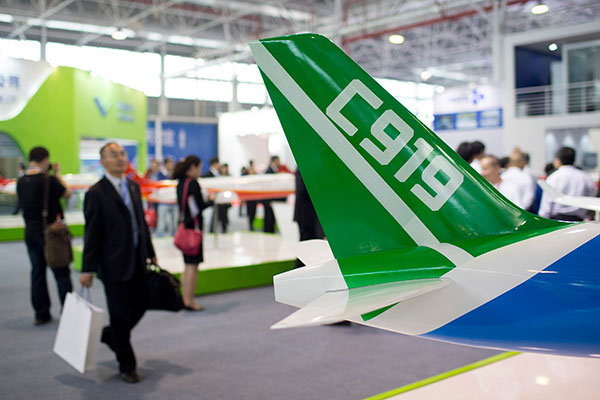 Attendees walk past the wingtip of a model Commercial Aircraft Corp of China (COMAC) C919 aircraft during the China International Aviation & Aerospace Exhibition in Zhuhai, Guangdong province, Nov 11, 2014.[Photo/VCG]
The first large passenger aircraft designed and built in China is expected to stage its maiden flight in the coming weeks. The flight is a significant step in China's bid to grab a slice of global jet sales worth $2 trillion over the next 20 years.
The COMAC C919, with over 150 seats and a standard range of 4,075 kilometers, is a medium-haul commercial aircraft and was rolled off the assembly line in 2015. It is expected to compete with the updated Airbus 320 and Boeing's new-generation 737, which currently dominate the market.
"They will be trying to compete on price against people who are building aircraft at a much faster pace and with more experience," Richard Aboulafia, aerospace analyst at Virginia-based Teal Group, told Reuters.
Commercial Aircraft Corporation of China (COMAC) holds some cards up its sleeve. Its plane has Western engines and avionics coupled with a new design, it's rolling out a pilot training program and expanding international staff, industry executives say.
By focusing on innovation and technological breakthroughs, China is gearing up to realize its dream of "taking off" by boosting a global aviation power with homegrown technology. China's first regional commercial aircraft, the ARJ21, began commercial operation in June 2016.
And though still unproven, COMAC could be the single biggest rival over the coming decades to the dominance of Boeing and Airbus, both in China's own huge aviation market and, longer-term, overseas.
COMAC said 21 customers had placed orders for more than 500 aircraft by the end of 2016, and it expects sales to exceed 2,000. In comparison, the latest version of the Boeing 737 had more than 3,000 firm orders before it flew last January.
Those types of numbers from the two big global plane makers come after decades of trimming costs and honing marketing pitches. The two have global support networks able to respond whenever a jet breaks down just about anywhere, and the number of jets flying makes it easier for airlines to raise loans to buy them.
The safety certification of the new plane - which reportedly has a catalog price tag of around $50 million, less than half that of a Boeing 737 or Airbus A320 - could be among the biggest issues for the C919 internationally.
Having a plane certified to fly commercially is tough enough even for Western jet makers as aircraft become more complex and supply chains expand.
Although the European Union has agreed to recognize some of the checks carried out by China, it is expected to insist on some of its own tests before issuing a safety certificate and is trying to understand where discrepancies between the two systems lie.
Agencies