Home / Business / Biz Photos
World Bank takes to Belt and Road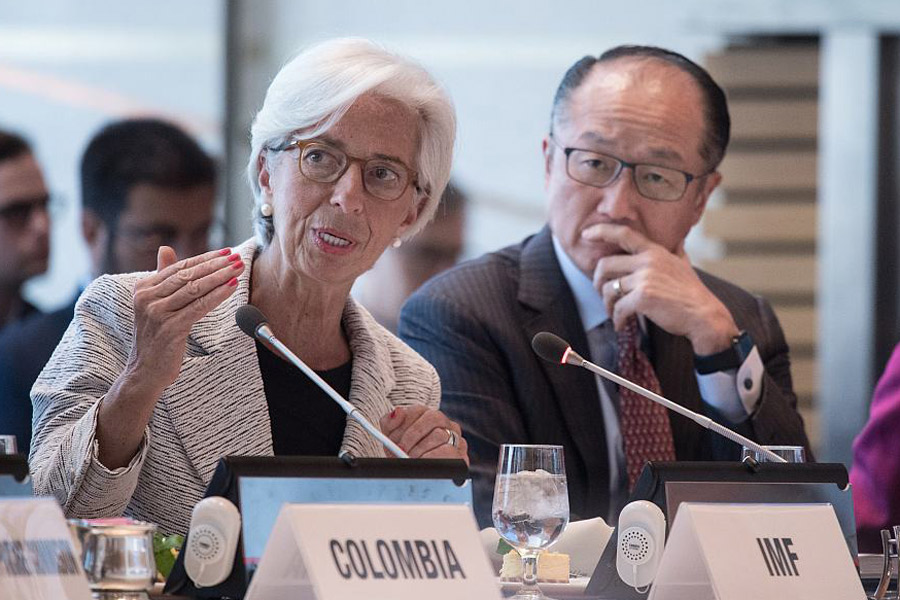 International Monetary Fund (IMF) Managing Director Christine Lagarde speaks as World Bank President Jim Yong Kim listens at the Carbon Pricing Leadership Coalition Second High Level Assembly Meeting at the 2017 World Bank and International Monetary Fund (IMF) Spring Meetings in Washington DC, April 20, 2017 [Photo/VCG]
"Not only are we engaged, for example, in a major study with China right now on the drivers of China's future economic growth, but we're partnering with AIIB already," he said, adding that there were two major projects that the World Bank co-financed with AIIB in Indonesia.
"So our expectation is that our engagement both with the Chinese government and with Chinese efforts at development, both through their own bilateral cooperation, but also through AIIB, will only grow going into the future," said Kim, who became the World Bank Group president in 2012.
"We've discussed at great length our approach of trying to crowd in much more private sector capital and the Chinese are very much in agreement with what we're trying to accomplish," he said.
Chinese Foreign Minister Wang Yi said a few days ago that China will use the Belt and Road forum to build a more open and efficient international cooperation platform; a closer, stronger partnership network; and to push for a more just, reasonable and balanced international governance system.
On Thursday, Kim also praised China's embrace of globalization and its success in lifting 800 million people out of poverty in the past decades.