Growth in exercise means distaff demand a better fit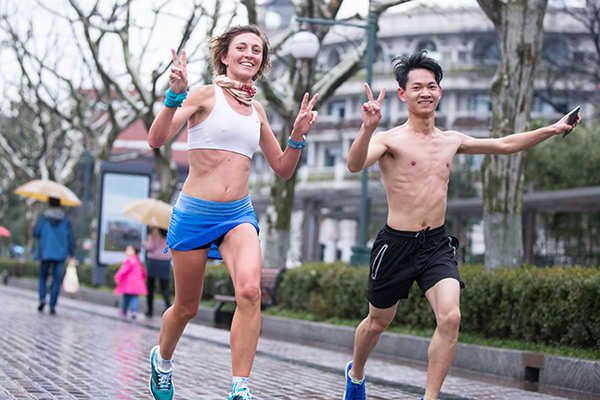 Joggers take part in "naked pig run" in Hangzhou, Zhejiang province, in January. [Photo/China Daily]
Many underwear retailers have begun to expand their sports bra categories, and they are confident that the growth in the sports undergarments sector will flourish, as more Chinese women get into the 'keep fit' mindset.
Last year, sporting goods giant Nike Inc launched a measurement system for sports underwear to help consumers select the products that fit them. Other sports bra brands such as Shock Absorber, also provide similar services.
Meanwhile, some online underwear stores have launched offline departments to provide consultant services.
Liu Yupeng, chief operating officer of Miss Rhino, a domestic e-commerce company that specializes in female undergarment making, said: "With an increasing demand for sports bras among Chinese women, our offline consultants offer services such as measurement, and the examination of body shapes to help customers better select their sports underwear."
By 2020, the market volume of sportswear in China is expected to reach 280.8 billion yuan ($41 billion). Sports underwear will take a market share of about 20 billion yuan to 30 billion yuan, according to global market research company Euromonitor International.
Victoria's Secret, whose featured products are sexy underwear, has also started to eye the sports underwear and comfortable clothing sector after its sales revenues experienced a sharp decline.
Last April, L Brands, the parent company of Victoria's Secret, announced plans to adjust its strategies to shut down its swimsuit business, and expand its sportswear category, which includes sports bra, shorts and leggings.
By 2025, the number of Chinese who take part in a keep fit regimen is expected to reach 500 million, and women would account for roughly 40 percent of that population. The figure indicated that women would become a new growth point for the sports goods market, and their spending on sports equipment would increase at a faster rate than men, according to data from the General Administration of Sport in China.
Neil Wang, president of market research agency Frost & Sullivan Greater China, said: "More women and young women have started to engage in sports activities. Besides functionality, women usually hope that the sports products they buy could look stylish, and more sporting goods brands have started to put in more fashionable elements into their designs, colors and tailoring of sportswear, including sports underwear."
From 2016 to 2024, the global underwear market will expand at a compound annual growth rate of 6.4 percent, fueled by the sales increase of sports bra and the rise of e-commerce, according to a report by global research company Transparency Market Research.
Some leading underwear firms such as L Brands, LVMH, Jockey International, Hanes International, and PVH Corp, are leading the market growth, the report said.
Zheng Yiran contributed to this report.