All eyes on China's growth target as 'two sessions' near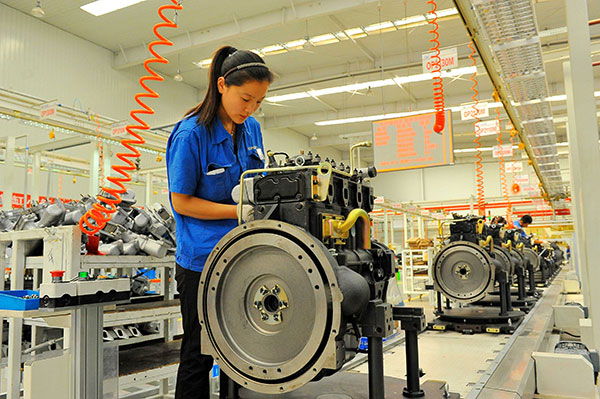 Workers assemble engines at a factory in Weifang, Shandong province. [Photo/China Daily]
BEIJING - With China's economic growth slowing for a sixth year in 2016 to a 26-year low, the world is watching as the government prepares to announce this year's growth target at the annual parliamentary session.
China adopted a target range for GDP growth for the first time in more than two decades in 2016, and its 6.7-percent growth fell within that range of 6.5-7 percent.
Although the pace still beat most major economies, the country's year-on-year growth has slowed for six years in a row, falling from a growth rate of more than 10 percent in 2010.
As the current government enters the final year of its five-year term, all eyes are on this year's growth target, which will be released in early March at the annual sessions of China's top legislature and top political advisory body, known as the national "two sessions."
Target in the spotlight
Given increasing uncertainties at home and abroad, whether China changes its growth target matters. The decision will be especially important as a new central committee will be elected at the 19th National Congress of the Communist Party of China in the second half of this year.
Central bank advisor Huang Yiping told Xinhua that the government should set a more flexible target for economic growth in 2017 to make more room for reforms, proposing a target range of 6-7 percent.
"We expect China to set its GDP growth target at about 6.5 percent for 2017, and it could grow 6.6 percent this year," said Ding Shuang, chief Greater China economist with Standard Chartered.
The Asian Development Bank, however, forecast in December that China's growth would be 6.4 percent in 2017, while the World Bank was more optimistic, keeping its earlier prediction at 6.5 percent in January, in line with the forecast made by government think tank Chinese Academy of Social Sciences.
Either way, China's growth would remain within a reasonable range and is unlikely to become a "black swan" event of the world economy in 2017.
"Seeking progress while maintaining stability" will be the main theme for China, according to a statement issued after the Central Economic Work Conference, during which Chinese leaders and senior officials gathered to map out priorities for 2017.
Lower speed, higher quality
While seeking stability, China is aiming for better quality in its economic growth and is sparing no effort to strike a balance between a medium-high growth and economic restructuring.
The economy is shifting toward a growth model driven more by new engines such as consumer spending, innovation and services as policymakers wean the economy off reliance on exports and investment.
Over the past few years, Chinese economy has benefited from reform and innovation, including supply-side structural reform, the Belt and Road Initiative as well as regional integrated development plans.
To shore up growth, more reforms are in the pipeline. According to the Central Economic Work Conference, policymakers agreed to expand reform to more areas, including overhauling the supply side of agriculture, reviving the real economy and stabilizing the property sector.
Engines for medium-high growth
Thanks to constant reforms and upgraded development practices under the central leadership, China's economic health has improved over the past four years, despite the slowdown.
When the current government took office in 2013, it began its term with the transformation of government functions, streamlining administrative approvals and delegating power to lower levels.
The reform not only led to burgeoning growth in the number of new companies, but also unleashed the creativity of entrepreneurs and made the economy more vibrant.
Later, the "new normal" became a catch phrase in China as the central leadership determined the economy had entered a stage of medium-high growth, requiring constant upgrading of the economic structure and seeking innovation.
Local governments have been urged to take the initiative in adapting to the "new normal" to keep economic growth at a reasonable range and raise growth quality and efficiency.
Realizing China's over-reliance on the demand side, including investment, consumption and exports, the central leadership started to underscore supply-side structural reform in 2015.
Supply-side structural reform, including lowering corporate costs and tackling excess capacity, has played an increasingly important role in the transition from dependence on traditional engines to new sources of growth.
Evolution of China's economic governance will continue to steer the economy on a higher-quality and more sustainable path and help achieve its development goals, including creating a moderately prosperous society in an all-round way by 2020, analysts say.