Cultural aspects shine in collections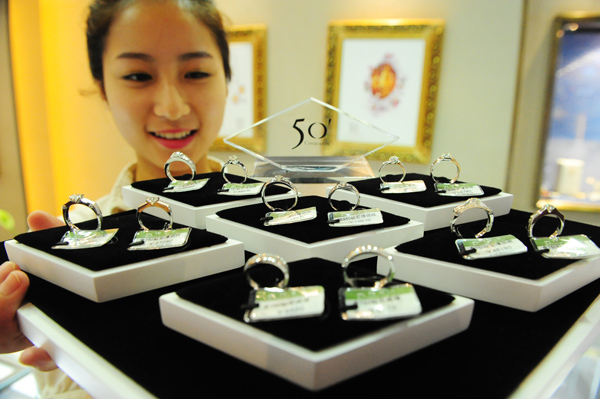 A salesperson shows pairs of rings made for lovers at a store in Fuyang, Anhui province. WANG BIAO / FOR CHINA DAILY
As the millennials' role in the jewelry market gets increasingly larger, Hong Kong jeweler Chow Tai Fook, one of the prominent and influential players in the market, is giving an artistic touch to its product designs, to attract younger consumers.
Chow Tai Fook brought on board two popular South Korean stars, Lee Minho and G-Dragon, as part of its branding campaign, especially in jewel design segment.
In 2014, it acquired Hearts on Fire, a US premium diamond brand, to enlarge its collections, such as premium diamond and bridal jewelry.
"Influenced by the Western lifestyle, the millennial generation has been more and more fond of cultural aspects like memorable marriage proposals and dream weddings. Diamonds fit in with this theme," said a spokesperson of Chow Tai Fook who sought anonymity.
"An increasing number of young Chinese women choose diamond ornaments for everyday wear. Last year, we launched some new jewelry collections. They are not only fashionable, but relatively lower priced and affordable for young consumers," he said.
Agreed Neil Wang, president of market research agency Frost & Sullivan Greater China. "Consumers shopping for diamonds have evolved from rings to decorations. These days, consumers tend to own multiple diamond ornaments. Diamond purchases are likely to become more common."
So, for marketing, Chow Tai Fook is no more relying on traditional advertisements that focus on marriage proposals and wedding themes. Chow Tai Fook has got several new advertisements designed that promote images of independent women.
For instance, the marketing concept for the jeweler's collection of color diamonds with a combination of fashion and European art is to encourage women who were born in the 1980s and 1990s to become pioneers of fashion.
Wang said: "The consumers who were born after the 1980s and 1990s have become the major consumer group in China, and there is a big difference in their spending mentality and habits compared with those who were born in the 1960s and 1970s."
Chow Tai Fook's advertisement design for another collection-its products use platinum and diamonds-reinforces the image of contemporary women who are firm of conviction and pursue a high-quality lifestyle.
The jeweler also cooperates with Walt Disney for its exclusive fashion collection, some of which is a mix of diamonds and Disney cartoons. The collection mainly aims to attract consumers whose inner child still dreams childhood dreams, the company said.
Recently, Chow Tai Fook launched two new collections: one targets women born in the 1990s. The other focuses on wedding decorations. The two collections are expected to further enrich the jeweler's product portfolio.
Promotions are also made on online social networks, especially for those that are popular among young people.
Wang said: "Because of the high value of diamonds, the market is expected to become more polarized. High-end brands will retain their advantage in the segment of physical stores.
"Prices and styles will dominate consumer demand for middle- and low-end diamond products."
Zheng Yiran contributed to this story