Lenders see net 2016 profit growth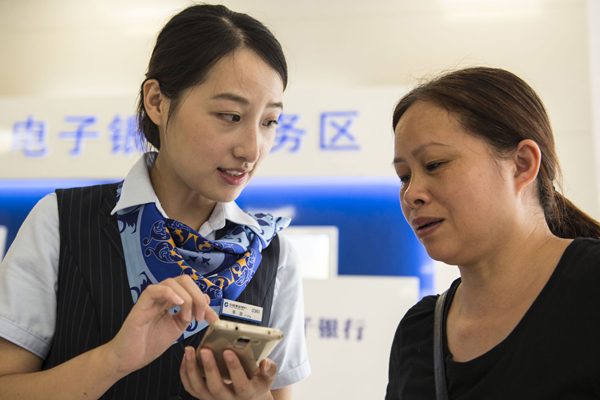 An employee of China Construction Bank helps a client at a branch in Haian, Jiangsu province. [Photo by Xu Jinbai/For China Daily]
Commercial bank earnings increase by 3.54 percent year-on-year, says CBRC
The net profit growth in 2016 of Chinese commercial banks increased 1.11 percentage points year-on-year as of the end of the fourth quarter of 2016, while the nonperforming loan ratio dropped slightly after a continuous rise since the first quarter of 2012, according to data released by the national banking regulator on Wednesday.
Commercial banks posted net profit totaling 1.65 trillion yuan ($240 billion) by the end of the fourth quarter, up 3.54 percent from a year earlier.
The quality of credit assets remained stable in general, said the China Banking Regulatory Commission. The NPL ratio of commercial banks fell two basis points from the end of the previous quarter to 1.74 percent, although the lenders' balance of nonperforming loans increased slightly by 1.2 percent to 1.51 trillion yuan.
During the same period, the balance of special-mention loans, potentially weak loans presenting an unwarranted credit risk, dropped from 3.5 trillion yuan to 3.4 trillion yuan.
The CBRC said commercial banks have a strong ability to offset the risk. As of the end of the fourth quarter, the ratio of allowance for loan impairment losses to nonperforming loans rose by 88 basis points from the end of the previous quarter to 176.4 percent.
As of Wednesday, 11 commercial banks listed in the Chinese mainland and Hong Kong, including seven banks listed last year, released their preliminary earnings for 2016.
All these banks, except Jiangyin Rural Commercial Bank Co Ltd in Jiangsu province, posted net profit growth ranging from 1.14 percent to 19.35 percent.
Among them, four city commercial banks recorded double-digit growth, with Bank of Ningbo Co Ltd in Zhejiang province heading the list.
Wu Qing, a banking research fellow with the Development Research Center of the State Council, said: "It's quite normal for city commercial banks, especially newly listed ones, to enjoy faster growth than their peers. However, double-digit profit growth does not represent the current situation of the Chinese banking sector in general. I expect that net profit growth in the banking sector will remain slow for a while, at a rate slightly above zero."
Zeng Gang, director of banking research at the Institute of Finance and Banking in the Chinese Academy of Social Sciences, agreed that profit growth will keep slowing, which is the overall trend in the banking sector.
Despite economic and regulatory challenges, Zeng noted that several positive factors that benefit commercial banks have already emerged.
"Corporate demand for loans is recovering. This will greatly improve the credit risk environment for banks. Moreover, banks have almost completely digested the impact of China's interest rate liberalization, so their net interest margins will probably rebound," he said.