Foxconn chief casts doubt on plans to shift jobs back to US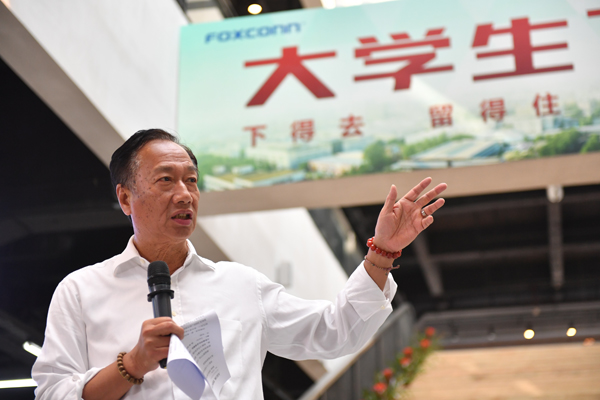 Terry Gou, CEO and chairman of Foxconn Technology Group, speaks at the opening ceremony of a R&D center in Shenzhen, Guangdong province, on Monday. CHEN WEN / CHINA NEWS SERVICE
Some US manufacturers may encounter difficulties if they plan to take their operations back to their home country, Terry Gou, CEO and chairman of Foxconn Technology Group, the world's largest contract consumer electronics maker, warned on Monday
He made the comments against the backdrop of US President Donald Trump's call for US businesses to move jobs back to the United States.
For example, shoemaking companies may find they can't even find the right people to make molds, he said.
The key to choosing the best location for a factory is to consider comparative economic benefits. "I am against trade protectionism and believe the most competitive product can win consumers," Gou said.
But he refused to respond to reports of Foxconn planning to open a large LCD panel factory in the US state of Pennsylvania. The company said that issue remains under discussion.
Foxconn's business model is very sensitive to costs, said Liu Guohong, director of the finance and modern industry research center at the Shenzhen-based think tank China Development Institute.
So it is unlikely to move its manufacturing to the US in short term, Liu said, as US costs are still higher than in China.
Sakai Display Products Corp, a jointly managed company of Foxconn and Sharp Corp, will start construction of a new plant in March in Guangzhou, with an investment of 61 billion yuan ($8.88 billion) for the first stage.
In addition, Foxconn also established a new research center in Shenzhen last month.
In the transition from manufacturing to innovation and branding, the firm needs an increasing number of highly skilled workers.
On Monday, it announced a plan to employ 18,000 graduates in total-12,000 university graduates and 6,000 technical secondary school graduates. It previously recruited around 7,000 students on average every year.