Analysts foresee greater flows into Hong Kong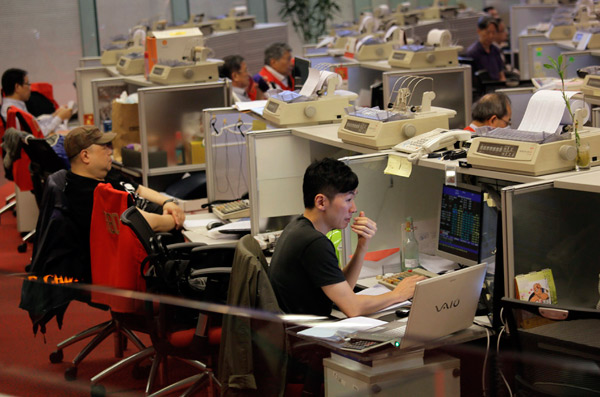 Traders work at Hong Kong Stock Exchange. [Photo/Agencies]
Stock Connect is working smoothly, but fails to meet market expectations
A net flow of 16 billion yuan ($2.3 billion) was recorded in the Shenzhen-Hong Kong Stock Connect after two months of the second stock link being in operation. Analysts expect the southbound flow-the flow to Hong Kong-to pick up this year.
Data shows the second stock link-the Shanghai-Hong Kong connect being the first-has been operating steadily, but below the market's expectation.
In the first month, there was a net buy-in of nearly 16.4 billion yuan in the northbound, and approximately 6.4 billion yuan in the southbound. In January, the northbound had a net flow of roughly 10.6 billion yuan and southbound embraced a net flow of about 3.7 billion yuan.
Wang Sheng, chief strategist of SWS research, said the expectation was that the southbound and northbound flow of the second stock connect would balance this year, while the southbound flow is likely to be slightly larger due to the scarcity of stocks and not simply cheap valuations.
Wang said the northbound investment opportunities remain in automobiles and household appliances industries which possess more reasonable valuations.
According to HKEX, last month the northbound net flow amounted to 16.6 billion yuan and southbound flow was 21.7 billion yuan which indicated more flow southbound.
Christopher Wood, managing director and equity strategist at CLSA, expected the southbound flow of both links to continue picking up this year adding more liquidity to Hong Kong equity market. But he stated that in his opinion the Hong Kong stock market will be more volatile this year.
Wood pointed out that CLSA overweights Chinese mainland companies listed in Hong Kong (H shares) but underweights domestic Hong Kong shares, due to the China Producer Price Index going positive. Supply side reform is also expected to continue.
Wood believes that banking, commodities, consumption and insurance sectors of H shares will perform better this year.
Wood described stock connect as a clever and positive scheme which provides Chinese mainland investors with the opportunity to invest in Hong Kong-listed stocks to diversify from yuan depreciation risk.
According to CLSA, the percentage of southbound turnover of Shanghai-Hong Kong stock connect against HKEX total turnover declined from an average 5.2 percent in September to 3.5 percent in the fourth quarter of 2016 and 3.7 percent so far in 2017. But it surged to a record high of 7.9 percent on Dec 30 and was 6.1 percent on Feb 3.
The benchmark Hang Seng Index dropped by 0.07 percent to 23,331.57 points on Tuesday and the Hang Seng China Enterprises Index was lifted by 0.06 percent to 9,846.06 points.