Chinese companies to build world's tallest twin towers in Cambodia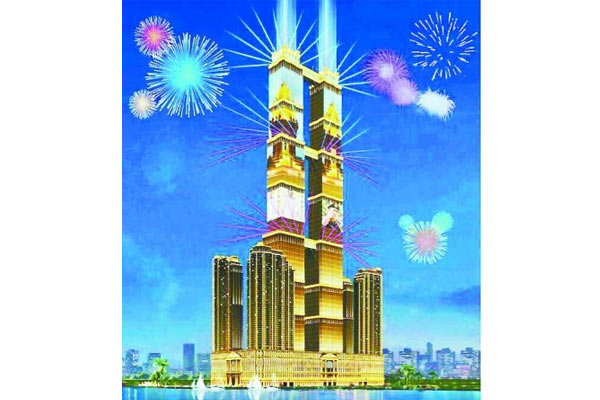 A diagram of the planned twin towers in Phnom Penh, Cambodia. [Photo/thepaper.cn]
A joint venture of two Chinese companies has won the bid to build the world's tallest twin towers in the Cambodian capital Phnom Penh, reports thepaper.cn.
The twin towers will be 560 meters high with 133 floors.
The bid amount is around $2.7 billion, and the duration of the contract is tentatively fixed at 60 months.
According to a statement of the bid winner, the twin tower project will be located in a high-class area in the Phnom Penh city center. The project will include commercial areas, offices, residential areas, exhibition halls, hotels, as well as a 4-floor underground parking lot.
It will span an area of over 1.5 million square meters and will be the largest world trade center in Southeast Asia.
The current tallest twin towers in the world are the Petronas Towers in Kuala Lumpur, Malaysia. It has 88 floors and is 452 meters high.