$1.44b fund of fund launched in Beijing aims to fuel M&As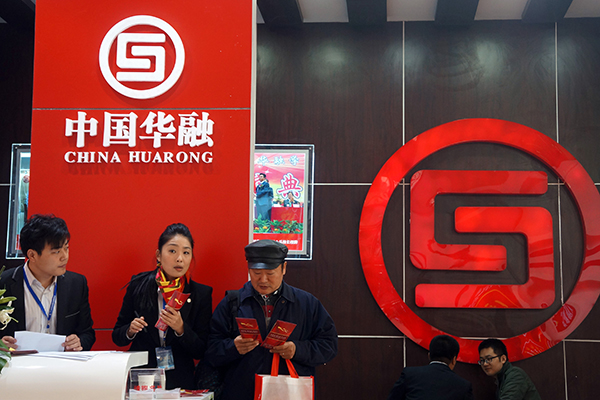 A China Huarong Asset Management Co Ltd booth at a finance fair in Beijing. [Photo provided to China Daily]
Asia Fintech FOF, a 10-billion-yuan ($1.44 billion) fund of fund, was launched in Beijing on Tuesday, aiming to seek investment opportunities and fuel mergers and acquisitions in the fast-growing financial technology sector.
The fund was initiated by both private and State-owned capital, including Hong Kong-listed Credit China Fin Tech Holdings Ltd, Shanghai Xinhua Distribution Group Ltd and Jilin Province Investment Group Corp Ltd.
"Our investment will center on leading companies in the fields of big data, AI, cloud computing, mobile payment, supply chain financing and block chain," said Sheng Jia, the executive director of Credit China Fin Tech.
According to Xie Sha, managing partner of Asia Fintech FOF, the fund already has some projects in the pipeline, covering big-data driven consumption financing, block chain infrastructure provision and AI-based credit service platforms.
Fintech is a burgeoning technology-backed modern financial service sector, which mainly includes online payment platforms, financial software and data analysis. This sector saw $49.7 billion of investment globally in the past five years, according to statistics from Citigroup Inc.
The performance of the domestic fintech market is even more eye-catching. Research jointly conducted by accounting firm KPMG and US consulting firm CB Insights showed that Chinese fintech companies had attracted $2.4 billion in investment, with nine deals closed in the first quarter of 2016, accounting for nearly half of the total global investment in the sector.
Driven by the Chinese market, the Asian fintech market saw $10 billion of investment in the first half of 2016, far more than North America's $4.6 billion and Europe's $1.8 billion.
Policy support is also stimulating the growth of China's fintech market. In August, the State Council published the national five-year plan on scientific and technological innovation by 2020, in which innovation of fintech products and services is encouraged.
"Fintech is reshaping the financial business. And this is an opportunity that neither traditional financial institutes nor technology firms want to miss," said Xie.
The booming information technology industry, such as smartphones and e-commerce, requires digital financial services, which also fuels the growth potential of the fintech sector. In October, a similar fintech FOF valued at 30 billion yuan was established in the Zhongguancun area of Beijing, which is expected to support acquisitions worth 150 to 200 billion yuan.
There are currently seven fintech-related vertical markets-mobile payments and e-wallets, supply chain and consumer finance, P2P lending platforms, online financial management, online insurances, individual financial management and online brokerages.
Gao Songya contributed to this story.