Stability, reforms, people: focus of China in 2017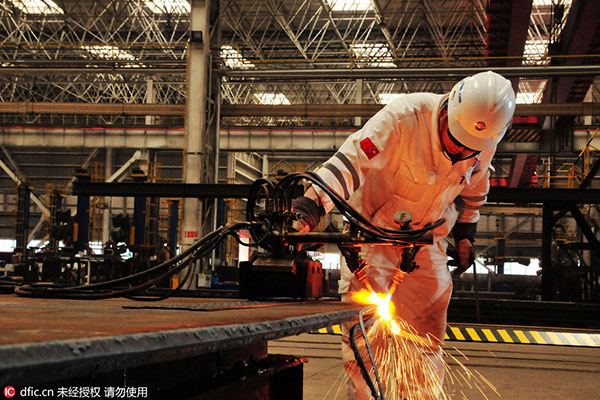 A Chinese worker processes steel at a factory in Qingdao city, East China's Shandong province, July 1, 2016. [Photo/IC]
BEIJING - Through high-level meetings in late 2016, the Chinese leadership has signaled a clear orientation for the nation's policy stance for next year: to hold the economy steady, press ahead with reforms and improve the well-being of ordinary people.
Economic stability
"Stability" was the theme that emerged for 2017's economic work at last week's Central Economic Work Conference.
China will maintain its proactive fiscal and prudent monetary policies, according to a statement released after the meeting. Specifically, monetary policy was described as "prudent and neutral," and fiscal policy will be "more proactive and effective."
"Neutral" means neither stimulating nor contractionary, said Zeng Gang, a researcher with the Chinese Academy of Social Sciences. "When implementing monetary policy, a balance has to be achieved between propping up growth and fending off risks, and now it is more pressing to control risks."
Given rising corporate leverage and global uncertainties, regulators have turned more cautious toward monetary easing, but have more frequently resorted to fiscal measures.
Fiscal support is necessary to push forward economic restructuring, stabilize the economy and improve people's livelihood, said Bai Jingming, vice president of the Chinese Academy of Fiscal Sciences.
Public spending will continue to bolster infrastructure improvement amid a prolonged economic slowdown, while more funds will be channeled to areas including re-employment of laid-off workers, industrial technological upgrades, health care, and education.
Analysts also expect continued tax breaks to relieve business burdens.
Despite volatility in the stock market and real estate sector, the Chinese economy is ending 2016 on a firm footing, with encouraging signs ranging from industrial profits to railway freight.
In the first three quarters, GDP expanded 6.7 percent year on year, within the government's target range of between 6.5 and 7 percent.
Further reform
Reform remained on the front burner as the economy urgently needs to address entrenched structural imbalance and find sustainable growth momentum.
"Next year's major economic task can be summarized as deepening supply-side structural reform," said Yang Weimin, deputy head of the Office of the Central Leading Group on Finance and Economic Affairs.
The reform was proposed at the end of 2015 and briskly carried out this year, with five major tasks: cutting industrial capacity, bringing down housing inventory, reducing leverage levels, lowering corporate costs and improving weak economic links.
Last week's meeting agreed to strengthen efforts and expand reform to more areas, including overhauling the supply side of agriculture, reviving the real economy and stabilizing the property sector.
Yang expects the reform to be a main theme of the country's economic work in the 13th Five-Year Plan period (2016-2020).
President Xi Jinping highlighted curbing property bubbles at a meeting of the Central Leading Group on Finance and Economic Affairs on Wednesday, the fourth time asset bubbles were mentioned by Chinese leaders in the second half of the year.
China will take a varied approach to regulating the property market, adopting financial, fiscal, tax, land and regulation measures to build a long-term housing mechanism that provides housing for all people, according to Xi.
Thanks to policies introduced by local authorities in October, the property market in big cities continued to stabilize in the last month, gradually retreating from sky-high prices.
"Houses are built for living, not for speculation," policymakers have agreed.
China will also introduce private funds into more sectors dominated by state-owned companies, push forward legislation on a civil code, better protect property rights, and improve the old-age insurance system, as well as steadily and properly promote fiscal, taxation and financial reforms.
People-centered development
China should stick to its people-centered development philosophy and address people's common concerns in promoting economic growth, Xi said during Wednesday's meeting.
"The fundamental goal of maintaining the growth pace and promoting economic development is to seek proper solutions to prominent issues of people's common concern," Xi said.
Xi's remarks added to China's ambitious plans to substantially improve the lives of common people.
By 2020, the last year of the current five-year plan, the country will build an all-round moderately prosperous society, double the average annual incomes of both urban and rural residents from 2010 levels, and completely eliminate poverty.
A two-day central rural work conference ending Tuesday targeted improving farmers' incomes, partly by enhancing agricultural productivity and competitiveness.
The meeting demanded more targeted efforts to lift another 10 million rural people out of poverty in 2017, as growth of per capita disposable rural income in the first three quarters slipped to its lowest level in almost 13 years.
The government will work on several fronts to reduce poverty: promoting industrial development in poor regions, improving access to employment services for the poor, improving health care and education, and improving infrastructure in poor regions.
China has lifted 700 million people out of poverty through more than 30 years of reform and opening-up.
Policymakers also agreed to promote clean energy, regulate the housing rental market, improve garbage sorting, improve nursing homes for the aged, and reinforce food safety supervision.