China, NZ discuss trade accord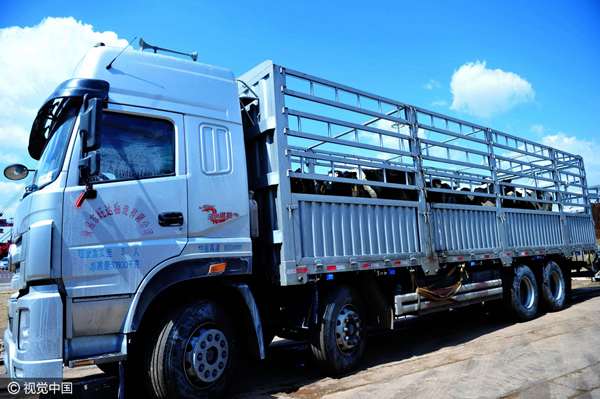 A truck loaded with cows imported from New Zealand at a port in Qingdao, East China's Shandong province, May 3, 2016. [Photo/VCG]
China and New Zealand have agreed to start first round talks to upgrade their bilateral free trade agreement in the first half of 2017, adding service trade, e-commerce and agricultural cooperation, the Ministry of Commerce said on Monday.
Other issues including market competition policies, trade technical barriers, customs procedures, trade facilitation measures and rules of origin will also be negotiated next year, the ministry said in an online statement.
Eager to further diversify their trade categories, the governments of China and New Zealand established a joint evaluation mechanism in March 2015 to upgrade the current free trade deal.
The bilateral trade agreement was signed in 2008. It focused on liberalizing trade, and relatively little attention was paid to services, improving infrastructure facilities and investment, and details of trade policy.
Upgrading the agreement will help develop a modern service sector and increase financial cooperation between the two countries, said Zhang Jianping, director of the International Economic Cooperation Institute of the National Development and Reform Commission.
China is now New Zealand's top trading partner. Bilateral trade was worth $12.82 billion in 2015, up 1.2 percent on a year-on-year basis, according to the General Administration of Customs.
Unlike free trade agreements between China and Australia and China and South Korea signed in 2015, Zhang said the existing China-New Zealand FTA lacks "advanced articles" on services and investment.
In addition, exports from New Zealand account for 70 percent of China's dairy imports, and China now stands to benefit from the China-Australia free trade agreement by getting cheaper products in the same category.
"Australia's agricultural goods, such as beef, rice, wheat, wool and cotton, will not be levied with tariffs by Chinese customs. This has fueled New Zealand's enthusiasm to upgrade its agreement with China," said Zhang.
Liu Chenyang, a researcher at the APEC Study Center at Nankai University in Tianjin, said New Zealand, therefore, is keen to talk about dairy products as part of the upgrade, and there are a number of issues both sides will work through together.
Tourism is another key area of competition between New Zealand and Australia. One million Chinese people traveled to Australia as tourists in 2015, and 400,000 traveled to New Zealand, 42 percent more than the year before, the China National Tourism Administration said.
"Structural changes similar to those being made in China are also taking place in New Zealand, as well as globally," said Liu.