Chinese demand stokes biggest cross-border residential property binge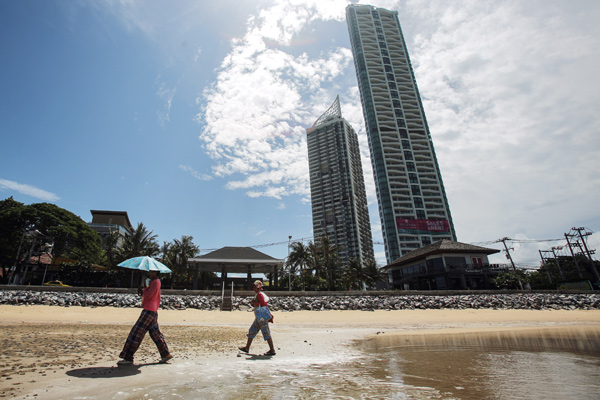 People walk past residential buildings on the Jomtien Beach area of Pattaya, Chonburi province, Thailand, on May 29, 2015. Thailand is one of the emerging overseas property investment destinations by Chinese.[Photo / Agencies]
If they were anywhere else in Beijing, the five young women in cowboy hats and matching red, white, and blue costumes would look wildly out of place.
But here at the city's biggest international property fair-a frenetic gathering of brokers, developers and other real estate professionals all jockeying for the attention of Chinese buyers-the quintet of wannabe Texans fits right in.
As they promote Houston townhouses ("Yours for as little as $350,000!"), a Portugal contingent touts its Golden Visa program and the Australian delegation lures passersby with stuffed kangaroos.
Welcome to ground zero for the world's largest cross-border residential property boom. Motivated by a weakening yuan, surging domestic housing costs and the desire to secure offshore footholds, Chinese citizens are snapping up overseas homes at an accelerating pace.
They're also venturing further afield than ever before, spreading beyond the likes of Sydney and Vancouver to lower-priced markets including Houston, Thailand's Pattaya Beach and Malaysia's Johor Bahru.
For cities in the cross-hairs, the challenge is to balance the economic benefits of Chinese demand against the risk that rising home prices spur a public backlash.
"The Chinese have managed to accumulate very large amounts of wealth, and the opportunities to deploy that capital in their own market are somewhat restricted," said Richard Barkham, the London-based chief global economist at CBRE Group Inc, the world's largest commercial property brokerage. "China has more than a billion people. Personally, I think we have just seen a trickle."
Ping An Haofang, an online real estate platform owned by China's second-largest insurer, says its $15 billion first-half estimate of cross-border real estate investments, derived from market data, nearly matches the figure for all of 2015.
Fang Holdings Ltd, the country's most popular property website, predicts overseas buying on its system will increase 130 percent this year, while transactions through September at Shenzhen World Union Properties Consultancy Inc, China's largest broker for new-home sales, were already 50 percent above last year's level.
The country overtook Canada as the largest source of residential purchases in US last year, according to a May report by the Asia Society and Rosen Consulting Group.
Bloomberg