Chinese tourists wield influence over world economy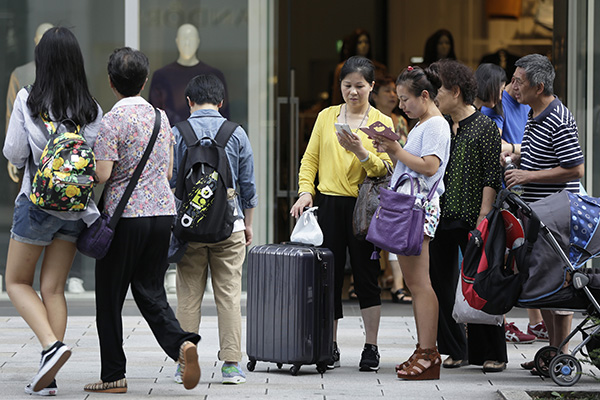 Chinese tourists visit Tokyo's Ginza district for shopping in August. Japan is the second-most popular overseas destination. [Photo provided to China Daily]
Statistics released by the China National Tourism Administration (CNTA) show that the number of Chinese tourists reached 4.12 billion in 2015, and the number of outbound tourists was 120 million.
Chinese tourists make a major contribution to the world economy
Chinese tourists spent a whopping 684.1 billion yuan ($100.9 billion) overseas in 2015, or 11,625 yuan per capita. Of that, more than 7,000 yuan was spent in developed countries including Japan, South Korea and the US.
Chinese tourists are focusing more than ever on the quality of travelling experiences. Generally speaking, higher service quality requires a higher consumption level. According to Wei Xiang, an associate professor with the Chinese Academy of Social Sciences (CASS), it costs up to 200 euros ($221) to stay one night in some villages in northern Europe, which is even more expensive than multi-star hotels. However, for Chinese tourists who prioritize personalized travel, price is by no means a problem.
Analysts said more and more Chinese tourists are now willing to invest overseas when travelling abroad. "Some tourists will consider buying real estate instead of staying in hotels when they find a favorable environment overseas," Wu Ya, CEO of China Business Network explained.
Security a priority for Chinese tourists
Li, an experienced travel guide, remarked that Chinese tourists consider security to be of utmost importance when choosing a travel destination.
Liu Tao, general manager of an international travel agency in Beijing, concluded that perceived dangers affecting travel destinations–including "floods, hurricanes, typhoons, earthquakes, tsunamis and other natural force majeure factors," according to Liu–cause tourists to choose alternative destinations.
Chinese tourists benefit destination countries
A report released last year by Australia and New Zealand Banking Group Limited (ANZ) showed that Australia's economic development benefited a great deal from the country's tourism industry, and that China was Australia's largest source of tourists. Data also indicated that Chinese tourists spent up to AU$5,416 per capita in Australia.
The report pointed out that the expansion of the aviation industry and more relaxed visa policies have enhanced Chinese tourists' enthusiasm for traveling abroad.
The power of Chinese tourists cannot be ignored
Statistics from the US Travel and Tourism Administration show that the number of Chinese tourists in the US reached 3 million in 2015, a year-on-year increase of 16 percent. Tourists in the US spent $6,000 to $7,000 per capita, much more than in other countries.
Gao Tianming, a researcher at CASS, offered a contrasting example: "The number of Chinese mainland tourists to Taiwan decreased sharply since May due to securities problems. Many people working in the tourism industry took to the streets to protest the inaction of local authorities."