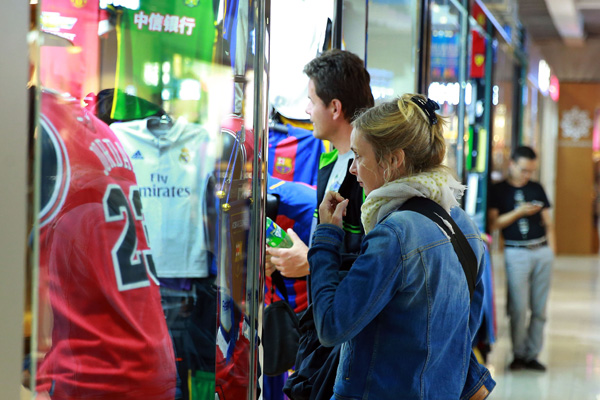 Two visiting consumers check out sportswear at a store in Yashow shopping center in Beijing during the seven-day National Day holiday last week. [Photo by Zou Hong/China Daily]
There was a time when Beijing's Yashow shopping center was throbbing with the business of custom tailoring, popular among foreigners living in or visiting the capital. Not any more. The center's makeover has hit the business hard.
Yashow started off as a wholesale market for garments. It gradually developed into one of the favorite shopping spots of foreigners because of its low-priced knockoffs and Chinese knickknacks. Travel agencies would work with Yashow to bring in foreign tour groups to shop there.
In October last year, a ten-month remodeling started to transform the center into a high-end shopping mall targeting fashion-chasing young consumers.
The makeover has, however, alienated the center's original customer base and hurt the tailoring business, which comprises many shops on the third floor.
"Old-timers don't visit any more," said Shen Baijun, the owner of Alice My Tailor that opened shop in 2007. "It's almost lunch time. Not one customer has come into my shop yet."
The tailor shops are a decade old. For 1,000 yuan, men can have a fine custom-made suit made here. Prices of formal shirts start at 150 yuan.
"I've custom-made clothes for several NBA stars and shirts for Shaun Murphy, a British snooker player, when he visited Beijing for a tournament," Shen said, reminiscing.
Profits at Shen's shop are down two-thirds since the center's reopening in July 2016, while the rent has more than doubled.
No wonder, many tailor shops have shifted, or are shifting, from Yashow to other places such as the Silk Street, not far away. Others are pondering their next move.
Huang, a salesperson at Jim Tailor at Yashow, said footfalls have plummeted after the reopening. "The makeover doesn't seem effective. Our boss hasn't decided yet where to relocate the shop."
For his part, Shen has rented a new but much smaller place in Sanlitun Soho, a shopping center across the street, in an attempt to retain his regular clientele.
An American journalist working for Global Times in Beijing, who identified himself as David without revealing his surname, said he has been having his clothes custom made at Alice My Tailor for three years.
A few days after Shen's new shop opened, David paid a visit and ordered two shirts and a pair of trousers. While taking his measurements, Shen conversed with David in English and could anticipate the latter's needs.
"I know all the good places (to make clothes) in Beijing. But Shen gives me the best bargain. We are old friends," said David.
Shen agreed. "Tailoring requires personal interactions. Regular customers' word of mouth is very important. Advertising can never assure you of anything."
Gao Songya contributed to this story