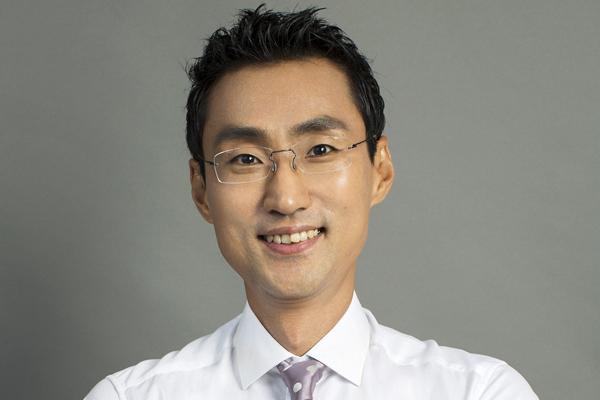 Yong Suk Cho, chairman and CEO of Ping An Pu Hui. [Photo provided to China Daily]
Polka dot ties, a towering presence and a signature smile-you may be forgiven if you take Yong Suk Cho for a pop star at first sight. But Cho is a star alright in the field of consumer credit.
He is the chairman and CEO of Ping An Pu Hui, the poster child of inclusive finance in China. He put the subsidiary of Ping An Insurance (Group) Company of China on the fast track of growth, boosting its loans from 100 million yuan ($15 million) to 120 billion yuan in the past 11 years.
Data excites him. Not just facts and figures about Ping An or the industry but data that could potentially transform the business he oversees and his own career.
He grew up in South Korea, received education in the United States, and has been working in several markets in Asia. Cho came to China in 2007 to join Ping An as he believed "China has a great market size and a lot of opportunities".
To do that, he left an established career as a consumer finance department director with a London-based lender. He saw potential for fast growth in microlending and consumer finance in China.
But things weren't smooth. Cho and his consumer credit team at Ping An faced many challenges between 2012 and 2015. Loan applicants needed to visit a Ping An branch and establish their credentials and eligibility, a paper-ridden process that took more than one hour, which disincentivized prospective customers. Business growth wasn't as fast as expected.
Worse, the market situation deteriorated in 2013. Clients' credibility appeared suspect. Loans went bad. Lenders started to mistrust borrowers.
So, know-your-customer norms became stringent. But that, Cho said, wasn't enough to make the industry fool-proof and growth-oriented. A fraud-minded borrower can still submit fake documents. And genuine borrowers would resent excessively probing questions and the long application process, he said.
So, Ping An relied on big data technology, analyzing public-domain information on borrowers to decide on their loan applications.
"Instead of telling my colleagues to do this and that, I'd ask a lot of questions and encourage teammates to think, so we could improve our service and find solutions to problems together," said Cho.
Cho and his team encouraged loan applicants to submit personal information online or through smartphone apps. Ping An's automated "scorecard" system would then crunch all that data to decide if the applicant is credit-worthy. That speeded up decision-making.
"How shall I decide how important a variable is, among tens of thousands of details? If age is important, how important is it? In the context of credit, is a 20-year-old prospective customer preferable than, say, a 30-year-old or a 40-year-old? What about the profession, the number of years in the current job, the location, so on? Knowing the importance of each aspect and giving weights to such factors with respect to each other-well, that calls for a lot of expertise, which we have. That's what gives us the competitive edge," said Cho.
Really? Cho declines to share more details on the scorecard. It is a "commercial secret". But the system works, and keeps bad loans at some 5 percent of the total, he said.
About 50 percent of applicants receive a loan, after due consideration of products, channels, regions and cities, which determine pricing as per lending rates. It is constantly improved and optimized, he said.
His decade-long experience in China helped fine-tune the business strategy. "In the beginning, I relied on my experience gained from other markets. But China is so different. In just a couple of years, I learned that mere experience isn't good enough (to grow). The China market evolved rapidly, leapfrogging several stages, to reach where it is today. This meant, you had to learn quickly."
Cho and his team are decidedly ambitious, given that an ever-increasing number of people, particularly the underprivileged, are seeking to benefit from inclusive finance.
Micro loans and small loans are popular now as a means to finance small businesses. A 30,000-yuan loan could see a small business owner through difficulties during the enterprise's infancy, and help it to survive and thrive, said Cho.
"Data helps build trust in borrowers, and facilitates loans. "Our customers believe Ping An gives (loans on) the best (lowest interest) rate and best service. We believe our customers can be trusted, and that our business can grow significantly," he said.
So far, Ping An has received over 10 million loan applications. More than 250,000 new customers and new sales worth 20 billion yuan are clocked every month.
Estimates say some 160,000 users of Ping An's 'iLoan' mobile app have received loans which they used to buy mobile phones; 180,000 borrowers used the loans to renovate or spruce up their homes; and 300,000 users used the money to stabilize their small businesses.
"The personal finance cake is huge. Any market player taking a slice of it would have immense potential for growth," said Cho.