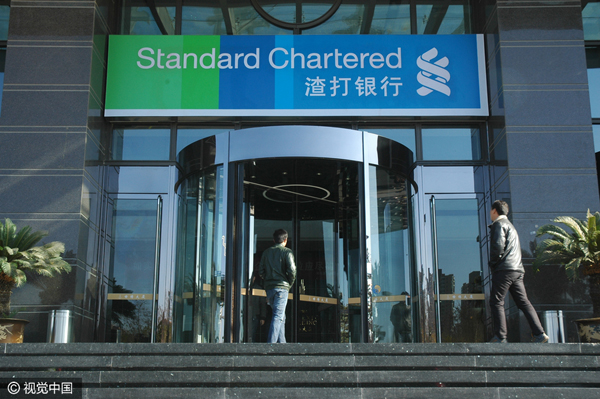 A branch of Standard Chartered Bank in Zhengzhou, Central China's Henan province, Nov 27, 2013. [Photo/VCG]
DUBAI - Standard Chartered Bank said on Thursday its Chinese branch has successfully launched direct trading business for the Chinese yuan with the United Arab Emirates' (UAE) dirham and Saudi riyal after China enabled direct trading with the two Arab currencies earlier this month.
The British bank's UAE branch in Dubai said the Chinese branch also handled the first batch of direct trading market-makers for the yuan against dirham and riyal in China's inter-bank FX market.
Sami Mahfouz, head of Financial Markets UAE, said the direct trading will lead to the reduction of exchange transaction costs, the promotion of bilateral trade and investment between China and these two countries, as well as driving the internationalization of the yuan.
China is the UAE's second-largest trade partner, and Saudi Arabia's largest trade partner, he said.
Bilateral trade between the UAE and China reach 48 billion dollar in 2015, according to the Chinese General Consulate in Dubai.
China announced on Sept 23 that it would launch direct trading with the two Gulf states and major oil exporters on its inter-bank foreign exchange market.
The move will bring the number of foreign currencies that are allowed direct trading with the yuan to 16, according to the China Foreign Exchange Trade System (CFETS).