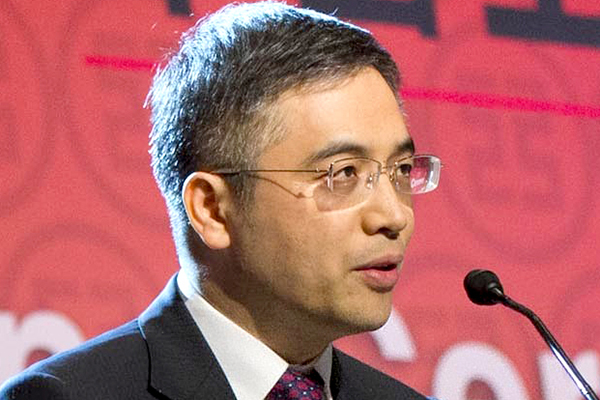 Gu Shu, president of Industrial and Commercial Bank of China Ltd. [Photo provided to China Daily]
Industrial and Commercial Bank of China Ltd, the world's biggest bank by assets, is to appoint a new president from within its own ranks-ending four months of speculation about who would fill the vacancy for the top job at the banking giant.
ICBC's press office confirmed on Tuesday that its Vice President Gu Shu will be promoted to president and said the official appointment will be announced after the bank holds its board meeting.
Gu, 49, who has extensive experience in finance and accounting, will be the youngest banking chief of China's big four State-owned lenders.
The personnel change is part of a reshuffle that follows the retirement of former Chairman Jiang Jianqing in May. Former President Yi Huiman replaced Jiang as the bank's chairman.
The appointment of Gu has generated industry discussion about how the new chief would lead the bank at a time when China's overall banking sector is under pressure due to rising bad loans and declining profit.
Attention also focused on how the new president would transform the bank's business model and address the challenges posed by the rise of internet and digital banking.
"ICBC is in critical phase in transforming business model to fit into the overall economic transition in China," said Zeng Gang, a senior researcher at the Chinese Academy of Social Sciences' institute of finance and banking.
"The new president is expected to respond to a slew of challenges including the rise of internet and online finance that are challenging the traditional banking business," Zeng said.
Gu joined ICBC in 1998 and became the bank's vice president in 2013. He holds a doctoral degree in economics from Shanghai University of Finance and Economics and was a visiting scholar at Pennsylvania State University.
Gu was in charge of ICBC's international and information technology departments while he served as vice president of the bank. He also extensively participated in the shareholding system reform of the bank before it went public in what was then the world's biggest IPO of $21.9 billion in 2006, according to Chinese media reports.
Gu's appointment came as Chinese banks have been exposed to greater risks due to the surging corporate debt and rising credit defaults by the so-called zombie State-owned enterprises amid China's economic slowdown.
Jiang Xueqing contributed to this story.