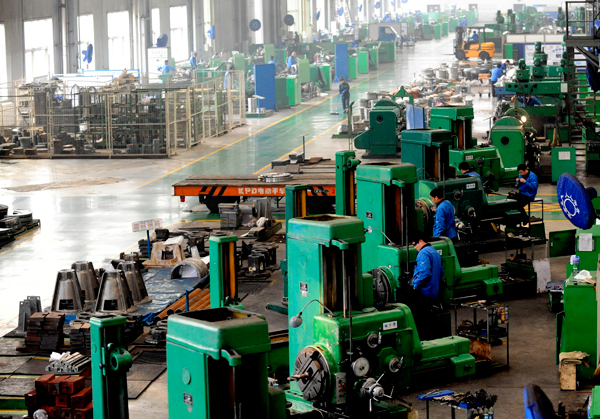 Workers at Shenyang Blower Works Group in Shenyang, Northeast China's Liaoning province, Feb 21, 2011. [Photo/VCG]
SHENYANG - Covered with dust, batches of compressors lay idle in the workshops of Shenyang Blower Works Group. Few buyers come to pick up these goods.
"The clients paid subscriptions for the equipment, but they did not come and take them due to their shrinking investment," said Jin Na, head of strategic development at the state-owned firm in Shenyang, capital of northeast China's Liaoning Province.
In the first half (H1) of 2016, the output value of Shenyang Blower Works Group fell by half. Some traditional industries in Liaoning, such as mining, cement and equipment manufacturing, also saw a sharp revenue decrease in H1.
As fixed asset investment and industrial added value dropped significantly, Liaoning's GDP contracted 1 percent in H1, the worst among 31 provinces, municipalities and regions on China's mainland. Its growth was 3 percent last year, also the slowest in the country.
The economies of Heilongjiang and Jilin, two other provinces in the northeast, expanded 5.7 percent and 6.7 percent, respectively in H1.
The northeast, an old industrial base, has experienced more difficulties than the rest of the country in the past two years amid China's economic slowdown. The region largely relies on heavy and chemical industries, energy resources, raw materials and a large proportion of state-owned enterprises.
The central government is set to revitalize the flagging economy in the region with a package of new measures to achieve balanced development across the country.
A three-year plan to rejuvenate the old industrial rust belt in northeast China will be distributed soon, said Zhao Chenxin, spokesperson for the National Development and Reform Commission (NDRC), at a press conference Tuesday.
The plan will focus on improving mechanisms, pushing structural reform, encouraging innovation and startups, and ensuring people's livelihoods, with 127 important projects in sectors such as transport, energy, agriculture and urban-rural construction, he said.
The document has been approved by the State Council, and efforts will be made to guarantee its execution, according to Zhao.
It is part of the latest round of rejuvenation policies being used to shore up the regional economy. In April, the central authorities released a policy document to rejuvenate the northeast rust belt region through more reforms and economic restructuring.
The northeast saw an average annual GDP growth of 12.2 percent in the ten years starting from 2003 when central authorities decided to rejuvenate the region with supportive measures.
Yet the region has suffered as the country's economy undergoes restructuring towards higher quality and efficiency.
NDRC statistics show the northeast region's GDP grew 2.2 percent in H1, much lower than the 7.6 percent, 7.8 percent and 8.0 percent for the east, middle and western regions, respectively.
Duality and transition
Not everything is bad.
Though many traditional industries are in trouble, struggling to get out of trouble through innovation and upgrading, emerging industries reported rapid growth in H1.
With more efforts on developing new and high-end products, Fushun Special Steel Company in Liaoning reaped a profit of 133 million yuan ($20 million) in H1.
"We will not find a way out if we do not adjust our product structure," said Liu Zhentian, deputy general manager of the company.
Not far from the premises of Shenyang Blower Works Group, Shenyang Piotech saw its output increase 342 percent in H1. The company plans to invest 300 million yuan in building the country's largest manufacturing base of film equipment, specially used in large-scale integrated circuit industry.
As an emerging sector, robot enterprises in Liaoning, led by Shenyang-based Siasun, a leading domestic robot maker, saw output increase 35.2 percent in H1, due to the development of new products.
In July, Intel Corp announced that its nonvolatile memory modules plant in Dalian, a port city in Liaoning, was put into production ahead of schedule.
The $5.5 billion project will spur the development of relevant industries, said Liu Yan, vice mayor of Dalian.
Consumption, tourism and the tertiary industry have also contributed more to the regional economy. In H1, tourism revenue increased by 13.3 percent in Liaoning, and the added value of the tertiary sector accounted for 63.4 percent of Heilongjiang's GDP.
Yet transition is not easy.
"As long as your company is related to the coal industry, banks will shy away from you," said Jia Liman of Fushun Coal Mine Motor Manufacturing.
"Without money, how will a company upgrade itself?" he said. In H1, banks recovered loan payments of 170 million yuan from his company and refused it new ones.
The investment environment is also a concern for many enterprises in Liaoning.
"We feel certain administration departments are capricious and dishonest. This is a big problem with the investment environment," said Zhang Ruoxi, general manager of Green Automation Equipment Company in Liaoning.
The Liaoning provincial government has vowed to work hard to address problems in the investment and business environment in the second half of the year.
In line with national moves to cut overcapacity, Liaoning cut coal, and iron and steel capacity by 3.5 million and 2.1 million tons, respectively in H1. It is pressing for the province to achieve the goals of slashing 13 million and 6 million tons, respectively from the two sectors in 2016.
"Economic downward pressure will force reforms. Seen from this angle, difficulties are opportunities too," said Liang Qidong, vice president of the Liaoning Academy of Social Sciences.