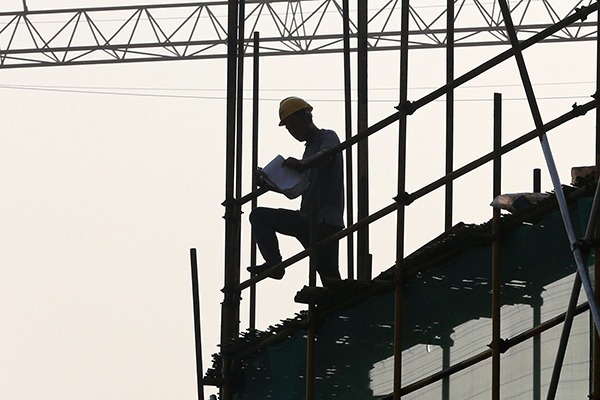 A property construction site in Huai'an, Jiangsu province. [Photo provided to China Daily]
China's property market has shown signs of cooling, posing a dilemma for policymakers who need to shore up the slowing economy. In July, the property sector continued to moderate, with fewer cities reporting monthly rises in new-home prices.
Of 70 large and medium-sized cities surveyed in July, 51 saw new-home prices climb month-on-month, down from 55 in June and 60 in May, the National Bureau of Statistics said on Thursday.
Meanwhile, 16 cities reported month-on-month price declines, up from 10 in June and four in May.
Official data last week showed that property investment in the first seven months rose 5.3 percent from a year earlier, slowing from a growth of 6.1 percent in first six months, and 7 percent in the first five months.
Growth in property sales in terms of floor area slowed to 26.4 percent in the first seven months, down from 27.9 percent in the first six months, and 33.2 percent in the first five months.
The cooling should come as relief to authorities who have been worried about asset bubbles, but there are concerns that the property sector is losing steam.
A recovery in the property market starting from late last year partially helped prop up growth in the Chinese economy, which has been weighed down by cooling investment, the cutting of industrial overcapacity and weak demand.
However, sharp increases in home prices have fanned fears of overheating.
On an annual basis, Shenzhen saw home prices rise 41.4 percent in July.
Prices in Shanghai and Beijing rose 33.1 percent and 22.7 percent year-on-year.
Less-developed areas and smaller cities have been reporting falling prices and huge inventories of unsold houses.
Jinzhou and Dandong in Liaoning province, and Mudanjiang in Heilongjiang provinces saw year-on-year declines of 3.8 percent, 2.4 percent and 1.2 percent, respectively, in July.
"The property market is becoming increasingly polarized," said Ni Pengfei of the Chinese Academy of Social Sciences.
In upper-tier cities where the economy is vibrant, abundant job opportunities, an inflow of peopwle and money, and a lack of housing supply combine to push up prices.
The NBS put the inventories of unsold homes, mainly in smaller cities, at 714 million square meters at the end of June, only 21 million sq m less than the previous quarter.
It may take nearly five years to destock if homes are sold at the average speed of the past three years, said Huang Yu from China Index Academy.
The split picture creates a thorny task for the government, which must strike a balance between curbing asset bubbles in big cities and boosting sales in the smaller cities.