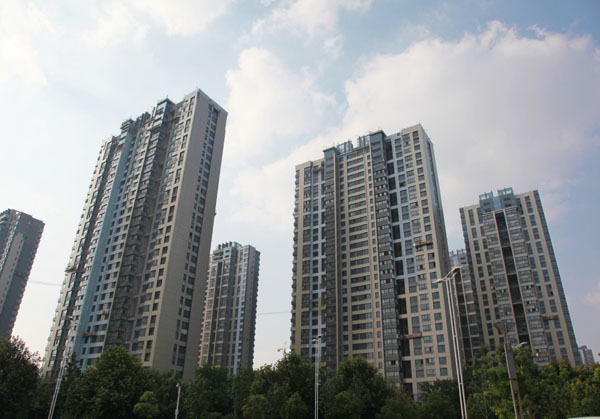 A housing project in Nanjing, capital of East China's Jiangsu province. [Photo/Asianewsphoto]
The price of a new home in China will nearly quintuple in three decades despite drops in transaction volumes, according to a recent report released by China International Capital Corporation Ltd.
By 2050, the average price of new houses in China will break 30,000 yuan ($4,500) per square meter, and prices in cities such as Beijing, Shanghai, Guangzhou and Shenzhen will rise up to 70,298 yuan, although the average price in 2015 was only 6,472 yuan and 21,505 yuan, respectively, the report said.
The transaction volume will witness changes, the report said. The trade volume nationwide will cut by nearly half from 1.12 billion sq m in 2015 to 671 million sq m in 2050. In first-tier cities, the volume will reach a peak of 58.7 million sq m in 2025, and then shrink to 40.6 million in 2050.
The figures were calculated based on the economic fundmentals of the property market in China, said Zhang Yu, an analyst at CICC.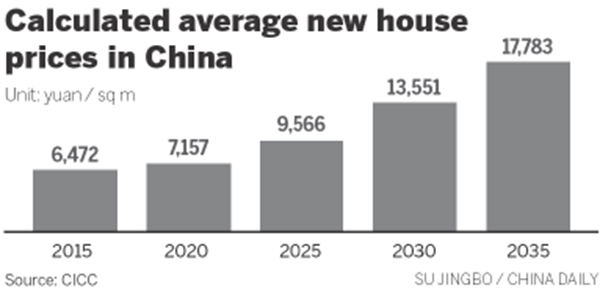 According to Zhang, the price and transaction volume, in the short term, might be affected by elements such as money supply, government policies, urbanization and the development of infrastructure. However, in the long term, macroeconomics and population are the two decisive factors in the property market.
"When the per capita GDP is at a lower level, housing is not people's basic requirements. But when GDP grows to a certain level when their requirements for housing can be generally satisfied, the transaction volume would go down," Zhang added.
Compared with secondhand property, which is a much more competitive market, the price of new houses is often determined by the prices of land, which is strongly influenced by government decisions, the analyst said.
In nationwide property purchases, 20 percent are secondhand houses and 80 percent are new ones. So far, transactions of secondhand houses have only surpassed new ones in 10 cities, including four first-tier cities and six leading second-tier cities, Zhang added.
"In the future, when the new and secondhand house buying ratio reaches six to four, the real estate industry in China will be more market-driven and much closer to the economic laws and our calculated figures," he said.
For homebuyers who have rigid demand, any short-term housing value depreciation will only be a "paper loss", said the analyst, because in the long term, the property prices in China will definitely increase due to the inevitable inflation.
"House purchasing is consumer spending in nature, but most homebuyers in China more or less consider it as an investment. For the property buyers, who can afford the price and with a reasonable leverage, today's price is the best value to purchase," he added.