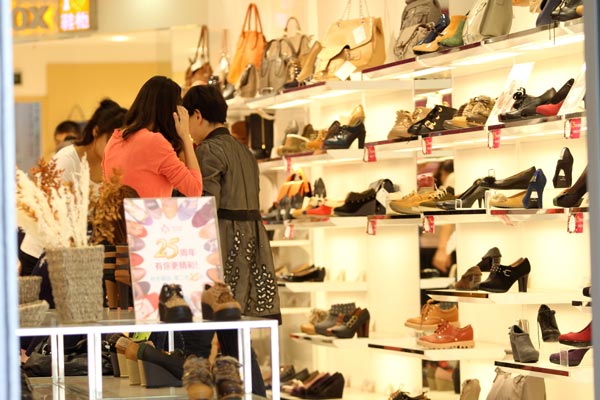 A Daphne's store in Nantong, East China's Jiangsu province, Sept 20, 2012. [Photo/IC]
Daphne International Holdings Ltd, a women's shoe retailer, issued a profit warning report for the first half of the year, Beijing Business Today reported on Friday.
The report shows that the company keeps closing down its retail stores. The same store sales growth rate, a key index of a company's retail sales status, is facing a continuous downward trend.
Daphne's same store sales dropped 11.7 percent in the first half to June 30, while 450 of its stores were closed, including 400 wholly-owned and 50 franchises, the report said.
An industry insider said the drop in the same store sales growth rate would affect the company's overall ability to make a profit.
According to the shoe retailer, the reasons behind the loss include a drop in salesvolume, which led to shutting down stores and a negative growth in same store sales. The low market demand, partially affected by extreme weather in the second quarter, pulled consumer flow in the stores down, too.
The company will carry out plans to sort its retail stores network as well as its stocks, and keep investing more in its online business in a bid to improve its performance this year, the report said.