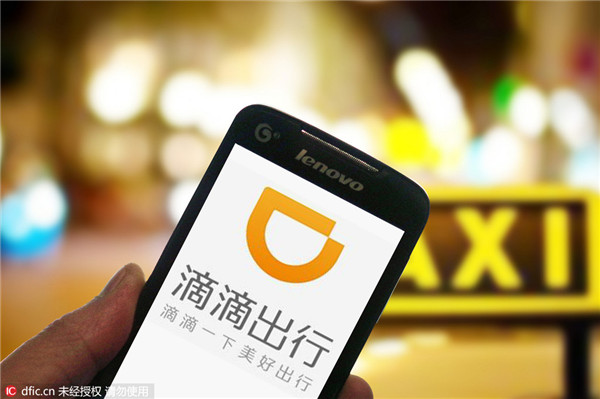 A Chinese mobile phone user uses the taxi-hailing and car-service app Didi Chuxing on his smartphone in Jinan city, East China's Shandong province, Feb 22, 2015.[Photo/IC]
Rivals burn cash in their struggle formarket dominance as institutions apply pressure
Uber Technologies Inc investors have a message for management: It's time to wrap up the costly fight in China.
Several institutional investors are pushing the ride-hailing company to broker a partnership agreement with China's market leader Didi Chuxing, according to people familiar with the matter, to stem the billions of dollars Uber is spending to expand in the region.
Investors in Uber and Didi have raised a potential deal in private talks, though the companies' executives would need to negotiate any truce, said the sources who did not want to be identified.
One Uber investor said he'd had more than 10 meetings and phone calls with Didi shareholders that wanted the companies to cut a deal.
Uber and Didi are bleeding cash in China as they fight for dominance in the world's most populous country. Uber has said that it is spending at least $1 billion a year to expand its business in the country. Both are giving out incentives for drivers and free rides to compete for bigger market share.
Benchmark Capital's Bill Gurley-an Uber investor and board member-spoke briefly with Didi President Jean Liu at the Code Conference in Rancho Palos Verdes, California, a few months ago, according a company source.
Liu, who speaks fluent English unlike Didi Chief Executive Officer Cheng Wei, has made several trips to the United States, where she evangelizes for the company and meets with backers including Apple Inc.
She also met this year with Emil Michael, Uber's senior vice-president of business, another person said. The people declined to discuss whether the conversations included explicit talk of a deal or partnership.
The two companies are not currently discussing a deal, another person familiar with the matter said.
Uber China didn't immediately respond to China Daily's inquiry on Thursday.
Didi said in a statement to China Daily on Thursday that it has no such plan (for merging with Uber's China business) and it doesn't want to comment more on the market speculation. Uber China also said in a statement that it doesn't respond to market speculation.
Bloomberg
Meng Jing contributed to this story.