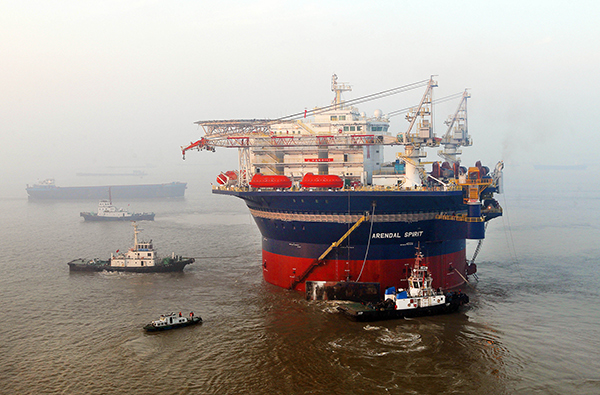 A ship designed by a COSCO unit in Nantong, Jiangsu province, on a trial sailing. It was made to operate under tough ocean conditions. [Photo provided to chinadaily.com.cn]

Firm capable of carrying commodity goods to more than 100 countries, regions
COSCO Shipping Bulk Co was officially launched in Guangzhou on Thursday, forming the world's largest bulk vessel fleet in terms of both ship numbers and deadweight tonnage. The new company was formed by the merger of COSCO Bulk Carrier Co and China Shipping Bulk Carrier Co.
With a total of 382 self-operated and controlled bulk vessels and a capacity of 34.58 million deadweight tons, COSCO Shipping Bulk will be able to ship iron ore, coal, grain and other commodities to more than 1,000 ports in some 100 countries and regions. Its annual freight volume will exceed 340 million metric tons. It now has 18,500 employees, including 13,000 mariners. The average ship age in its fleet is eight years.
Sun Jiakang, deputy general manager of COSCO Shipping, said as many countries and regions along the Belt and Road Initiative need natural resources and commodities to support their ongoing urbanization and industrialization, the new company is keen to build more partnerships with both governments and businesses along these trading routes. COSCO Shipping Bulk also signed cooperative agreements with six domestic companies, including China Agri-Industries Holdings Ltd, China Resources Power Holdings Co Ltd and Hunan Valin Steel Co Ltd on Thursday. They will work together to further expand client networks and to develop overseas businesses, especially in emerging markets.
To improve local services, COSCO Shipping Bulk will work with representatives employed by its mother company, COSCO Shipping, to take care of sales, customs clearance and business promotion, in particular along the Belt and Road Initiative routes.
Because global bulk shipping operators continue to confront overcapacity, low carriage rates and weak market demand, the new company will deploy more resources into more than 40 of its non-shipping subsidiaries. It will seek to dig more growth from real estate, property and hotel management, road logistics, ship financing and insurance businesses. "The establishment of the new company is a flexible way to achieve business scale and synergies, particularly in the sectors of commodity shipping and other service businesses, in order to better compete with other established global rivals," Sun said at the inaugural meeting in Guangzhou.
"This move is also part of ongoing restructuring of State-owned enterprises," said Dong Liwan, a shipbuilding industry professor at Shanghai Maritime University. He said COSCO Shipping's new step will transform its businesses into a more diversified operation model that can take full advantage of the opportunities likely to come from surging demand for infrastructure development and natural resource trade in Africa, Southeast Asia and Latin America, as well as the in the Yangtze River Economic Belt.