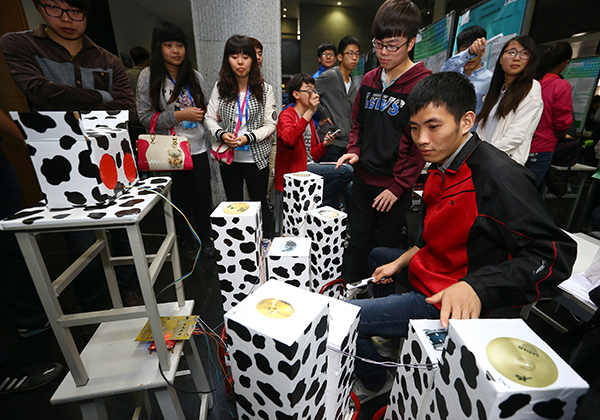 A university student adjusts his "virtual" drum set at a tech innovation expo held in Tianjin. [Photo/Xinhua]
Tianjin ORAC Elevator Co Ltd plans to introduce robots to its assembly line in order to boost efficiency and speed up the pace of its transformation toward intelligent manufacturing.
The firm, a leading manufacturer of elevators, is taking the step in line with the national "Made in China 2025" strategy, which seeks to transform China from a manufacturing giant into a global manufacturing power.
Liu Yongyuan, the company's chairman, said it plans to invest 70 million yuan ($10.6 million) to introduce advanced robotic equipment.
"We will continue to increase investment in R&D and attract top talent. Our R&D spending accounts for 20 percent of our total expenditure, while our sales revenue is expected to reach 600 to 700 million yuan this year," said Liu.
The annual sales growth of its products is around 30 percent.
In 2015, it sold more than 2,000 elevators, and the company expects to sell around 5,000 this year.
Founded in 2005 with total assets exceeding 500 million yuan, ORAC now produces elevator components, escalators, and elevators for passenger, freight, observation, hospital and domestic use.
It was listed in August 2015 on the National Equities Exchange and Quotations, a pilot national share transfer system for small and medium-sized enterprises also known as the New Third Board.
Having obtained more than 80 patents, the company has transformed from initially producing elevator components to owning elevator brands and intellectual property.
Tianjin municipal government has issued a range of policies that encourage small and medium-sized scientific and technological enterprises to innovate. The number of "little giant" enterprises with sales above 100 million yuan has risen from 1,800 to 3,453 this year. ORAC has obtained the title of "little giant" enterprise.
The city has set a target of having more than 100,000 small and medium-sized science and technology businesses by 2020, with 5,000 achieving the designation of "little giant".
"We also plan to complete the acquisition of Alimak Group, a Sweden-headquartered company engaged in the manufacturing and development of industrial elevators, construction hoists and work platforms, by the end of this year," Liu added.
Alimak's global R&D headquarters will remain in Europe, while its manufacturing operations will be transferred to Tianjin's Dongli district.