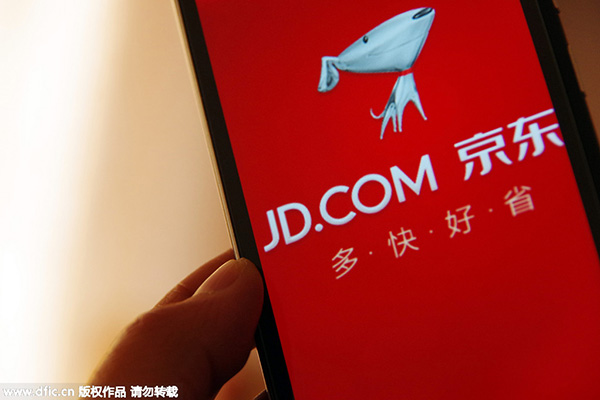 A mobile phone user uses the mobile app of Chinese online retailer JD.com on his smartphone in Zhengzhou city, Central China's Henan province, Oct 3, 2015. [Photo/IC]
Chinese online retailer JD.com Inc is facing a 500 thousand yuan fine for "the illegal act of using deceitful or misleading price information to entice customers or other business operators into trading", according to a statement of administrative penalty released by the Beijing Municipal Commission of Development and Reform (BMCDR) on Wednesday.
The statement says that following the clues of public tips and complaints, the BMCDR did an investigation on the price behavior of JD.com and used its transaction records as evidence, checking the list and record of inquiries from July 29, 2015 to April 4, 2016.
"JD.com has violated the Price Law of the China by resorting to dishonest means in terms of prices to entice consumers or other business operators into trading," said the statement.
The authority accuses JD.com of the following behaviors: changing the listed prices of goods and then misleading customers to buy them on false discounts; selling the same commodity at different prices; issuing coupons that later proved unable to be used; refusing offer price protection to customers who buy goods that meet the requirements of price protection; and confusing the actual price and marked price of goods.
According to the statement, the 16G white Mi Pad tablet was advertised at a price of 1299 yuan on JD.com, September 2, 2015, but after customers clicked to buy, the price tag turned out to be 1499 yuan.
A spokesperson of JD.com responded that the company admits that its non-subjective mistakes in labeling prices, such as marking the false original prices and miscounting the discounts, could mislead customers, and the company apologizes for its mistakes and will accept the punishment, according to a report by the Beijing Times.
Wang Ximing, lawyer and director of Beijing Badu Law Firm, said that a website's behavior of increasing the marked prices of goods before sales, abd then selling them at a discount to entice customers can be defined as fraud.
"Commodity prices should fluctuate according to market rules within the limits of law, otherwise there may be phenomenon of unfair competition," said Wang.
In two weeks from now, JD.com will host its June 18th "anniversary shopping spree of 2016", which is also called "quality carnival".
With a slogan of "buy good quality at low prices", the shopping spree is advertised as offering quality products rather than just low prices.