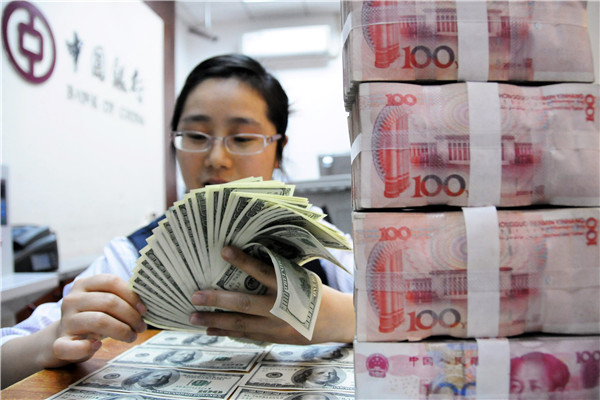 A clerk of Bank of China counts US dollars at a domestic branch.XINHUA
BOC increases bite in Big Apple Larger NYC branch comes as Chinese 2015 FDI in the US grew 30% to $15.7 billion
When Bank of China moves to 7 Bryant Park in midtown Manhattan this fall, it will join major American financial institutions in the neighborhood, and continue its expansion in the US as its overseas business grows.
"The strengthening of economic and trade cooperation between China and the US has brought us a lot of new business, which has brought pressure to our work," said Xu Chen, director of Bank of China's US branch, in an interview with China Daily.
"Our number of employees is increasing quickly, and the old building (on Madison Avenue and 48th Street) wasn't big enough, so we needed to move to a new office building.
"The (new) building is located just next to Bryant Park and the Bank of America Tower.
"Being located near Bank of America marks the close economic and trade cooperation between the two countries, and it also indicates the role that China's economy plays in the world," he said.
The building by Bryant Park sits on Sixth Avenue, or Avenue of the Americas, which Xu said is symbolic. Bank of China paid $600 million for the 28-story building in 2014, and will occupy more than half of it.
Bank of China's assets abroad have risen 54 percent over last year. The bank's overseas profit rose more than 5 percent, accounting for almost a quarter of total profit.
It will continue providing traditional services to customers-such as bond investing and trade services-and develop its retail services because of the growing number of Chinese students in the US and of those immigrating to America for work.
In response, the bank opened a Flushing, Queens location last year to serve the fastest-growing Chinese community in New York.
In addition, Bank of China has been active in cross-border renminbi transactions as the Chinese currency continues to internationalize; the US branch will increase renminbi liquidation and settlement, Xu said.
The bank's focus on the US comes at a time when Chinese investment in the American market is at an all-time high: Chinese foreign direct investment in the US in 2015 grew 30 percent over 2014 totals, hitting $15.7 billion.
Activity this year has already surpassed 2015 numbers, and Xu said the bank sees the trend becoming even stronger.
"The US is the most desired destination for Chinese investors," Xu said.
The US market is big, offers a wide variety of products, and certain sectors can provide expertise that Chinese companies may be lacking, he said.
The food and beverage, energy, and healthcare industries can provide China with services that its aging and growing population would need, he added.
"Being a populous country, China is already experiencing what we call an 'aging society'. For the pharmaceutical, healthcare sectors, there is a greater and greater need for their services," he said.
"The US is also a leader in fields like biotechnology, so I feel the two countries will find ways to cooperate more and more," he said.
Xu said he sees the environment as another point of collaboration, given China's partnership with the US on climate change and limiting carbon emissions.
"There is huge cooperation potential for the two countries in the clean energy sector, since the two countries jointly promoted the agreement on global reduction of carbon dioxide emissions in Paris last year, which pushed forward the development of the usage of environmentally friendly natural resources," he said.
Jiang Xueqing contributed to this story.