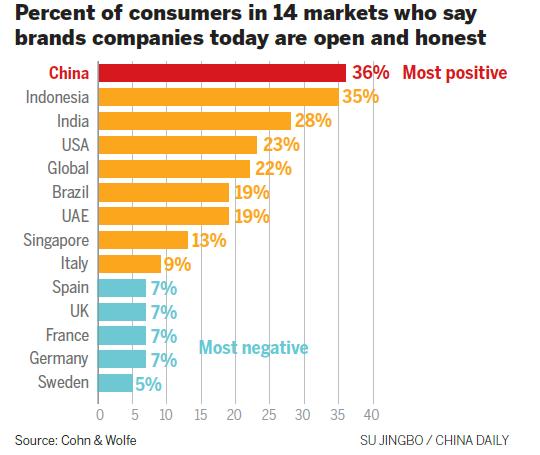 Chinese consumers ranked the financial and technology brands as the most authentic while brands in the education and real estate sectors were ranked the least authentic, a survey by global communications agency Cohn & Wolfe showed on Thursday.
The survey was part of the firm's global study on the authenticity of the brands in the eyes of consumers, which revealed the top 100 most authentic brands in China and globally.
Financial brands including the Bank of China and China Merchants Bank as well as technology brands including Huawei Technologies Co Ltd, Alibaba Group Holding Ltd and Baidu Inc made the China Top 100 list. Traditional Chinese medicine brands Tong Ren Tang Group Co Ltd and Yunnan Baiyao Group Co Ltd were also ranked high on the list.
Globally, The Walt Disney Co, Amazon.com Inc, Apple Inc, Samsung Electronics Co Ltd and Lego A/S all were in the top 10 on the Global Authentic 100 brands while no Chinese company made the list, the survey showed.
Nearly 12,000 consumers in 14 markets from the United States, Europe, Asia, Latin America and the Middle East were surveyed in the 2016 study.
It identified three key attributes for authenticity: reliable (delivers on promises, high quality), respectful (treats customers well, protects privacy and data) and real (be genuine, communicates honestly, acts with integrity).
The survey showed that Chinese consumers are the least cynical toward brands as 36 percent of them said that brands and companies are "open and honest" while the number is 23 percent in the US, 13 in Singapore, and a mere 5 percent in Sweden.
"Despite many issues of fraud, fake brands and scandals, the Chinese culture still has a lot of respect for the larger and global brands. I think there is a natural affinity whereas in Europe and the US, consumers are a little bit jaded against the brands," said Jim Joseph, chief integrated marketing officer at Cohn & Wolfe.
While financial institutions and technology brands achieved the highest scores on the authenticity index, the industries of consumer goods, education and real estate were ranked the lowest by Chinese consumers.
Jia Xiaoxuan, director of the brand research center at Chinese consulting firm Hejun Group, said that the authenticity ranking has to do with the frequency of consumers' interaction with the brands and it also reflected the imbalance of industrial development in China.