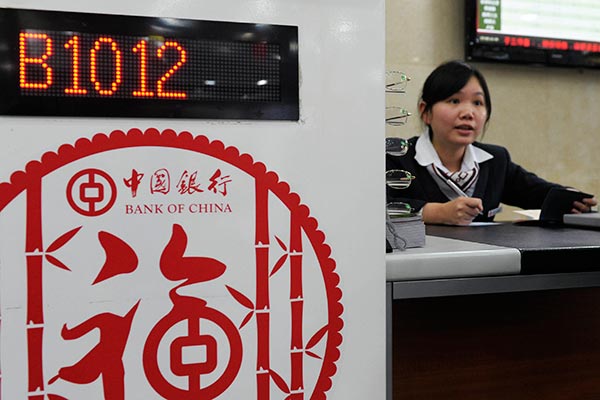 An employee of the Bank of China at the bank's outlet in Nanjing, capital of Jiangsu province.[Provided to China Daily]

High yields, ability to diversify by purchasing more bonds are making market attractive
Foreign investors are fast taking up new opportunities to invest in China's interbank bond market after China's decision in February to further liberalize the sector, investors and analysts said.
The high yields on offer, coupled with the ability the market provided to investors to diversify by purchasing more Chinese bonds, were key factors that made the market attractive, they said.
With growing evidence of overseas interest, the Bank of China hosted a forum in London on Wednesday to explain to foreign investors how to use this market. The gathering attracted about 50 representatives from global investment companies and institutions.
Jin Mei, chief representative of the People's Bank of China, said at the forum that the liberalization of China's interbank bond market was an important step in China's overall capital account reforms and yuan convertibility.
Wang Huabin, deputy general manager of the Bank of China's London Branch, said China's interbank bond market was expected to grow further this year, as the market anticipated increasing issuance of municipal, panda and green bonds. This growing scale will create further opportunities for overseas investors, he said.
Valued at about $7 trillion, China's interbank bond market is currently the third largest in the world, following the US and Japan. Previously the market was only open to foreign investors with Qualified Foreign Institutional Investor and Renminbi QFII licences, whose investments were restricted to the amount of their quotas.
As a result foreign participation stands at about 2 percent. In February, however, the PBOC said it would allow certain types of foreign investors to buy bonds in its interbank bond market and would scrap quotas for long-term investors such as pension funds and charity funds.
Andrew Malcolm, a partner and head of capital markets in Asia at the London-based law firm Linklaters, said the attractiveness of China's interbank bond market is due to the yield combined with the relative stability of its economy and currency.
"Long-term this is a very positive development for the Chinese economy as it will further integrate China with global capital markets. Combined with the internationalization of the yuan, the overall effect is a heightened economic leadership role for China. The yuan is a key pillar to the global economic order and will become a core currency globally," Malcolm said.