Service industries, internet businesses help fuel quarterly GDP increase of 6.7% year-on-year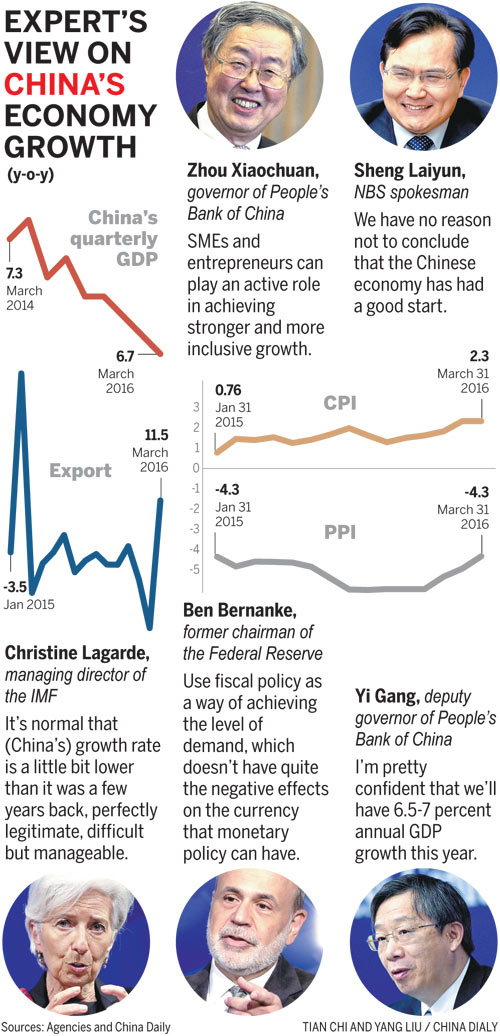 New data show that the Chinese economy is stabilizing, thanks primarily to growth in the service industries and internet-based businesses, although the manufacturing sector remains weak.
The country's GDP growth in the first quarter did not continue to fall at a worrisome speed. The 6.7 percent year-on-year figure was lower by only 0.1 percentage point than the fourth quarter of last year.
But GDP is not the only thing to consider, said Sheng Laiyun, spokesman for the National Bureau of Statistics.
The economy showed structural resilience by no longer relying on highly pollutant heavy industry, low value-added shipments to overseas markets and local governments' debt-financed investments.
The world's second-largest economy is now "more balanced and shows a better quality", Sheng said.
In the first quarter, China generated 3.18 million new jobs, accounting for 31.8 percent of the target for this year, Sheng said. Export and fixed-asset investment growth in March, in particular, picked up strongly to beat market expectations.
The services sector contributed much more than industry to the GDP growth, along with strategic emerging industries and high-tech industries.