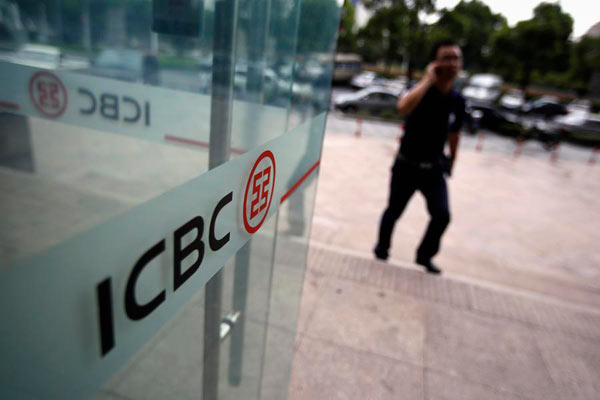 A customer walks at a Industrial and Commercial Bank of China Ltd (ICBC) branch at the Shanghai. [Photo/Agencies]
The China Banking Regulatory Commission recently issued a series of specific requirements aimed at further strengthening the overseas risk management of Chinese financial institutions.
This is timely and also necessary, since the overseas branches of some Chinese banks have frequently been investigated by local financial authorities or police. On Feb 27, the Spanish police conducted a search of the Madrid branch of Industrial and Commercial Bank of China because of alleged insufficient supervision to prevent money laundering. Financial regulators in the United States, Britain and Germany also made regular or temporary inspections of Chinese banks' overseas operations.
More Chinese banks may face such checks in the future with the expansion of Chinese businesses in the international financial market, especially following the renminbi's inclusion in the International Monetary Fund's special drawing rights basket.
This will undoubtedly raise the requirements for Chinese banks to manage their financial business overseas, since any loopholes or faults will offer local financial regulators or police a pretext for possible "investigations" and thus influence their normal operations.
Without taking effective precautions and strengthening communication and coordination with local financial bodies, domestic banks' overseas branches can expect to encounter an increasing number of similar problems, which makes it necessary for them to overhaul their overseas operations to eliminate any problems.
The frequent investigations into Chinese banks' overseas business by foreign financial authorities should also spur other Chinese enterprises with overseas projects to enhance their management. It is urgent that Chinese enterprises raise the efficiency of their overseas businesses and their awareness of local regulations.