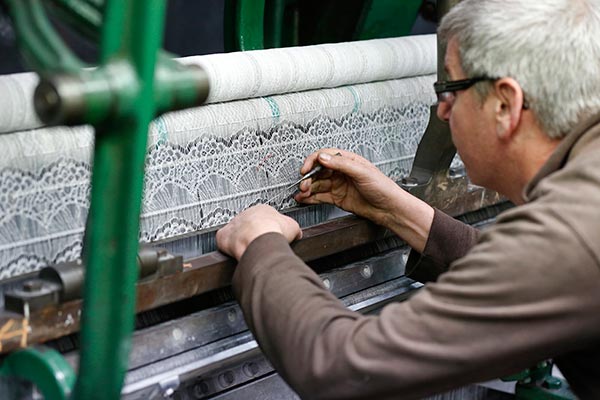 An employee adjusts a thread on his mechanical lace-making machine called Leavers loom at the Desseilles Laces factory in Calais, northern France.[Photo/Agencies]
Chinese leading textile company Yong Sheng, a Hangzhou-based privately owned enterprise, has acquired French lace producer Desseilles Laces SAS, one of the oldest lace producers in the country, for 300,000 euros ($341,300).
Founded in 1993, Hong Kong-listed Yong Sheng sells its products to more than 60 countries and regions, and last year, it posted revenue growth of more than 20 percent over 2014.
With the acquisition, it is the first time that the company will have a production base in Europe.
Last year, Desseilles saw its sales revenue reach 5.4 million euros, declining 35 percent from 2014. The acquisition will enable Desseilles to survive on the verge of bankruptcy.
Currently, 70 percent of Desseilles' products are exported to Asia. After the deal, the French lace producer is expected to rapidly expand its market share in China, and encounter more growth opportunities worldwide.
Michel Berrier, general director of Desseilles, said: "After the purchase, we plan to become the No 1 lace producer in France. Now we provide products to many well-known lingerie brands, such as Victoria's Secret.
"Cooperating with Yong Sheng will bring us financial benefits, as well as access to new markets. Meanwhile, we will bring Yong Sheng creative designs and products that were unavailable in China."
As one of a few lace producers to master world-leading techniques and traditional production methods, Desseilles has become a famous brand in France thanks to its sophisticated craftsmanship.
Desseilles encountered legal problems before the acquisition. Some former employees sued the company for violating the French labor law, and the court fined Desseilles 1 million euros.
Unable to pay the fine, Desseilles started the liquidation process. After it signed the acquisition agreement with Yong Sheng, the court withdrew the fine.
Under the agreement, the French company plans to reduce its workforce from 74 to 60. Among the bids for the company, the Chinese plan provided the best solution for its local employment issues. Yong Sheng promised to keep the 60 positions, and keep the manufacturing in Calais, the original production area for Desseilles in northern France, for at least five years.
Zhang Qi, assistant to the chairman at Yong Sheng, said: "For a long time, chemical fiber brand has been a rather weak sector in Yong Sheng's industry chain. We hope to raise the brand value through the acquisition.
"Yong Sheng plans to research and develop new products by using lace and chemical fibers together. The production and dyeing by Yong Sheng will help Desseilles to significantly cut its costs, and help it turn around within a year.
"In the long term, we hope to promote the whole industry by transferring the lace industry layout, and establishing a new R&D center, design center and lace production training school in France."
Lu Jinyong, a professor at the University of International Business and Economics in Beijing, said: "China's textile industry is seeing declining international competitiveness, due to increasing labor costs. A critical way for China to raise its competence and upgrade its industrial structure is through acquiring premiere overseas brands."