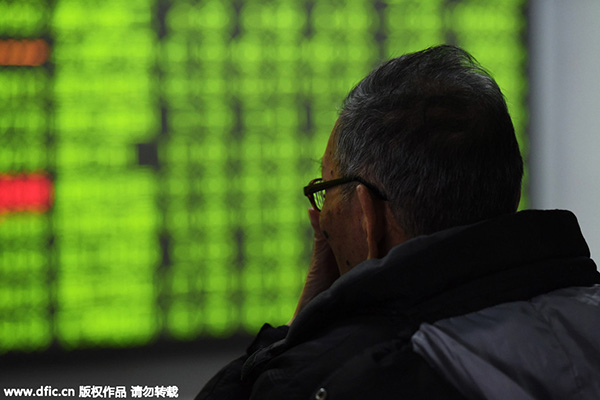 A man checks stock prices at a brokerage in Hangzhou, Zhejiang province, Jan 26, 2016. [Photo/IC]
China's stock market tumbled by more than 6 percent on Thursday, and investors' concerns about the upcoming registration-based IPO system might be a main reason, experts said.
Other factors include rising property prices in big cities, tighter liquidity in the financial system and investors' booking profits after the market's recent rebound.
The benchmark Shanghai Composite Index dropped by 6.41 percent to close at 2,741.25 points on Thursday. The Shenzhen Component Index plummeted by 7.34 percent, while the startup index ChiNext declined by 7.56 percent.
Only 47 shares' closing prices increased, while another 1,436 shares declined by the 10 percent daily limit in the Chinese A-shares market. Technology and small-company shares led the decline.
Ma Wenya, chairman of fund management company Beijing Techsharpe Co, said that investors' concerns about the coming registration-based IPO system could be a main reason for the decline, and that investors' sentiment made the condition worse.
In December, the Standing Committee of the National People's Congress, the country's top legislature, authorized the State Council to adjust rules based on the securities law to allow stock listing to be changed from an approval-based system to a registration-based one starting from March 1.
"In the short term, most investors do not know the coming registration IPO system's influence on the market, so many of them will not participate in the A-share investment," said Ma.
"But the registration-based IPO system is good for small-cap stocks in the middle term and will benefit large-cap stocks in the long term," said Ma.
With experts expecting a real estate boom in first-tier cities such as Beijing, Shanghai and Shenzhen, Ma said many stock investors were selling their shares and purchasing property.
Hong Hao, managing director and chief strategist at BOCOM International, said the market is still speculating about when the registration-based IPO will be formally introduced. The national legislative session, due to open in early March, will discuss the new system.
Deng Haiqing, chief economist at JZ Securities Co, said it's normal that people have concerns about the registration-based IPO system because detailed rules have not been established, but China should stick to the reform because it is good for the long-term development of China's capital market.
Sheng Xiaolan, a civil servant in Zhejiang province, said on Thursday, "I sold my shares in the morning and earned a bit from the rebound."
caixiao@chinadaily.com.cn