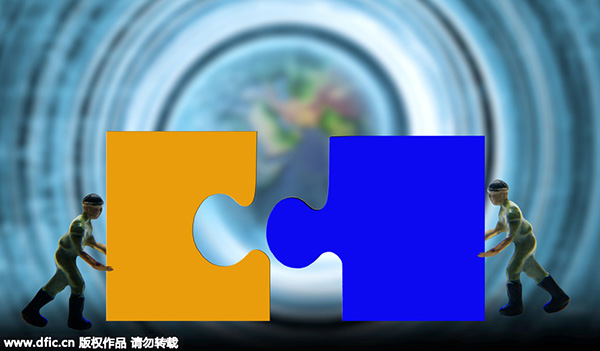 [Photo/IC]
Mergers and acquisitions hit a record high level in China last year, rising 37 percent year-on-year, a new report has revealed.
Global auditing firm PricewaterhouseCoopers said 9,420 deals were completed during 2015, worth $733.7 billion, which marked an 84 percent increase in value.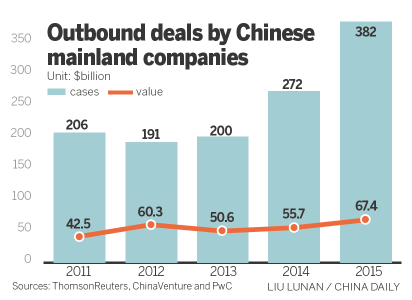 George Lu, PwC China's transaction services partner, said the firm also expects M&A activity this year again to be brisk, growing at similar double-digit pace.
The company's latest figures show the number of domestic strategic M&As grew strongly, driven by the ongoing economic transformation, sector consolidation, restructuring and bold inorganic growth strategies.
Technology and financial services were particularly attractive sectors, he said, mainly due to higher growth expectations for the technology sector, as well as some industry consolidation.
The levels of capital being raised, and the significant pace of development by financial services and online payments operations in China also contributed.
Outbound activity also grew 40 percent by volume and 21 percent by value, both new highs.
The private sector led the charge, but financial buyers and private equity investors were also very active, as State-owned enterprises remained largely subdued.
"In 2015 we saw a continuation of the outbound trend, with strategic buyers pursuing inorganic growth strategies and seeking technologies and brands to bring back to the China market, as well as significant participation from PEs and financial buyers acquiring overseas assets with a China angle," said Lu.
"There were 40 percent more outbound deals in 2015, and I believe we will see this kind of rate of growth for the next few years as Chinese-led multinational corporations start to emerge on the global stage."
The report also showed private equity and financial investor deals increasing 79 percent by deal volume and 169 percent by deal value.
Domestic investors were especially active, although the focus on domestic A-Share markets as an exit route made it a tougher environment for foreign PEs.
Leon Qian, PwC' transaction services northern China leader, said M&A investors were seeking high-growth opportunities as the general economy slowed and consequently, the VC industry remained active, also reaching record high levels.
"M&A activity in China will continue to grow in 2016 at a double-digit pace, led by domestic strategic and outbound activity, as well as robust financial-buyer activity," said Qian.
The report predicted continued high levels of activity in the technology and financial service sectors.
It said domestic banks will maintain their expansion to support China's overseas infrastructure and the increasingly global activities of domestic customers.
The report highlighted insurers and financial technology companies, as likely to look to acquire new capabilities and brands. Domestic payment companies are stepping up their international expansion to capture business arising from inbound and outbound cashflows, the report said.