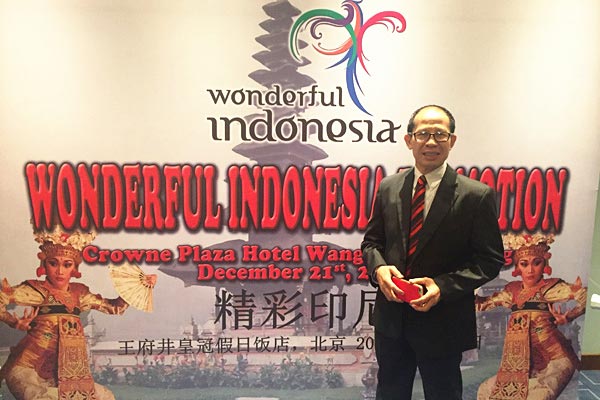 Igde Pitana, Indonesia's Deputy Minister of Tourism, attends "Wonderful Indonesia Promotion" in Beijing, capital of China, on Dec 21, 2015.[Photo/Xinhua]
BEIJING – Indonesia aims to attract more Chinese visitors, said Igde Pitana, Indonesia's Deputy Minister of Tourism, at the "Wonderful Indonesia Promotion" on Monday in Beijing.
Indonesia sets the target of Chinese visitors at 1.3 million this year and two millions next year, said Pitana.
Last year, their number hit 959,000, according to the minister, making China the fourth largest source of foreign tourists.
In the first eight months of this year, the number grew by 20.74 percent to 779,348, as compared to the same period last year, according to Indonesia's Central Statistics Bureau.
To meet the goal of two million for next year, he said, Indonesia removed visa requirements from this June to facilitate the Chinese visitors stay for 30 days.
Besides, more limits on yachts and cruises to enter Indonesia territories were canceled and more gates opened to Chinese visitors, said the minister.
Apart from Bali, 12 more cities are expanded as destinations for Chinese tourists including Batam in Riau, Semarang in Central Java and Cirebon in West Java.
"We hope the friendship and mutual understandings between the Chinese and Indonesian peoples could be well-promoted through tourism and related industries, " Pitana pointed out.