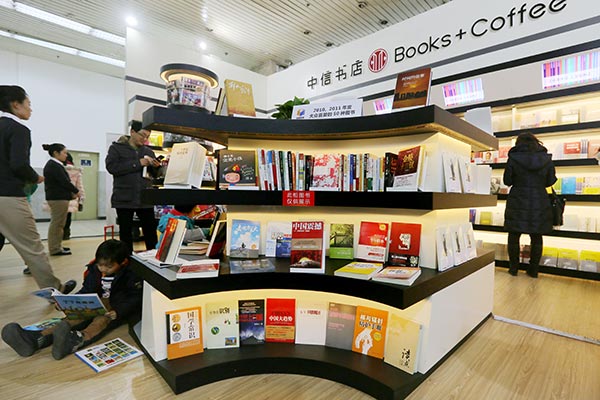 Customers shop in a CITIC Press bookstore in Beijing. [A JING / FOR CHINA DAILY]

Firm's blueprint will also see expansion of bookstore network
CITIC Press Group, the publishing offshoot of State-owned investment company China International Trust and Investment Corporation, is planning to expand its Internet publishing operations while still growing its burgeoning network of bookstores.
The firm held a bell-ringing ceremony for its recent public debut on the New Three Board on Wednesday, at which its President Wang Bin said it considers innovation as key to future growth.
"We will be able to develop further by leveraging the power of the capital market," he said.
The firm began trading on the over-the-counter equity exchange on Nov 26, becoming China's first State-owned publisher to list, and the first of CITIC's affiliates, to trade on the new board.
Wang said its future now lies in a comprehensive transition from its "traditional publishing model into Internet publishing, based on content innovation".
The company also said in a statement it had just signed an agreement with China Reading Ltd, a Shanghai-based digital reading market leader, which will help CITIC Press manage that shift.
Founded in 1988, CITIC Press is widely recognized as a leading provider of modern Chinese culture. It has published various best-selling books that have had significant social impact, particularly those dealing with business and social sciences.
Its most popular recent titles have also included the Chinese editions of Who Moved My Cheese?, the biography of Steve Jobs, the former chairman and chief executive officer of Apple Inc, and World Order, by former US Secretary of State Henry Kissinger.
Zhu Weifeng, a spokesperson for the State Administration of Press, Publication, Radio, Film and Television, China's cultural industry regulator, said it was a logical step by CITIC Press to raise funds on the capital market. He called it a significant and innovative move that will help upgrade the Chinese publishing sector.
CITIC Press has been building a chain of bookstores since 2010 in major airports and landmark buildings nationwide, and regionally. It is now considered one of the major book retailers in China with a network of 132 bookstores in major cities and 17 airports.
The company said it plans to start opening another 1,000 stores in China next year, based on the business model "books, coffee, culture, innovation and consumer trust", with many more sites likely in the center of major cities.
Shares of CITIC Press was not trading on Wednesday. In the A-share market on Wednesday, culture and media plate was among those sectors that led the advance of the index.